Thandai Powder
A special blend of spices like cardamom, saffron, fennel, rose, this powder is a great way to flavor milk or any dessert!
Thandai Powder is a versatile masala powder that you easily make at home.
With the flavors of cardamom, saffron, rose and loaded with nuts, this powder is great to flavor your milk or use in desserts!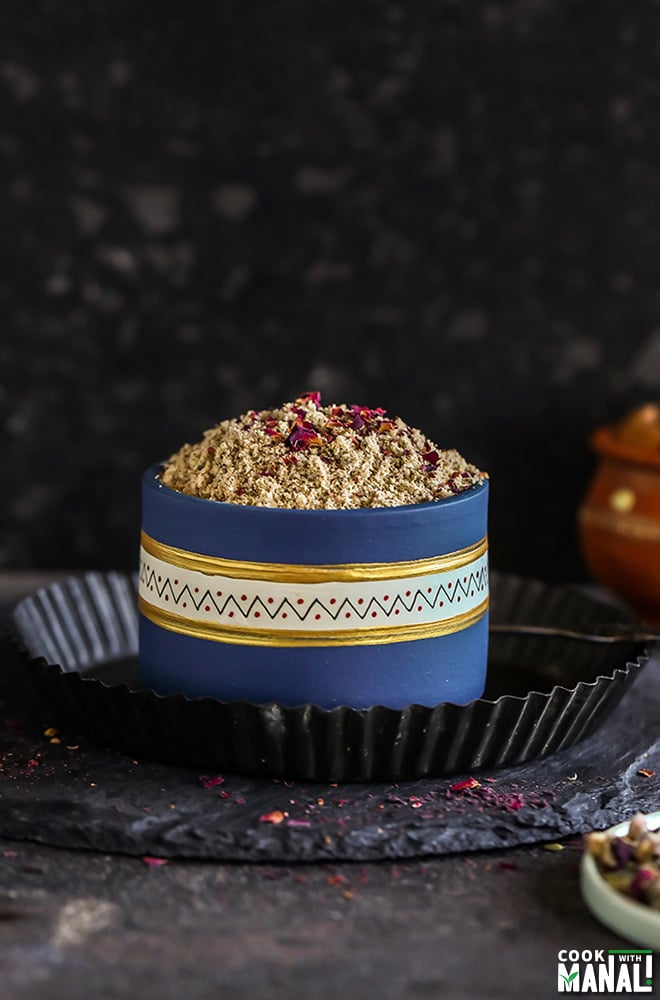 When I was little, I used to hate milk. Like hate it from the bottom of my heart.
My mom would give me a glass of milk everyday before school and I would drink it somehow. But whenever I got a chance, I would throw it in the sink.
I feel so bad about it now but then I was a kid and I hated milk so all I wanted at that point was to get rid of it somehow and throwing in sink when no one was watching seemed like the only natural thing to do.
It is another story that mom often caught me throwing away milk and she would always hand me a second glass with in seconds. I eventually had to drink it!
Mom would flavor the milk with so many things like popular chocolate malt drink mixes and so many flavors. But I liked none.
The only way I drank milk was if it was mixed with mango like in mango milk shake or with spices like cardamom and saffron as in this thandai powder.
What is Thandai Powder
I already have a thandai recipe on the blog. It's a cooling drink made with nuts and lot of spices. While you can make thandai from scratch whenever you want to, an easy way out to have some thandai masala powder on hand.
That way you can enjoy thandai in minutes. And overall, this thandai powder is such a great masala to flavor milk. It adds so much flavor to regular milk and is the perfect pick me up drink to have.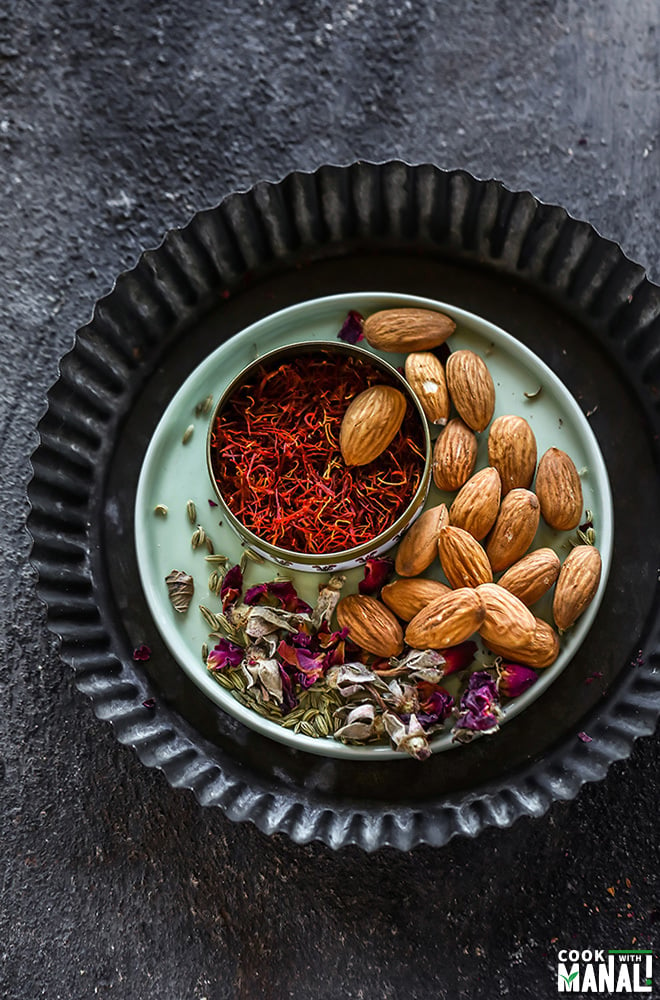 Let's see what all goes in this thandai powder
✓ nuts like almonds and cashews
✓ peppercorns
✓ fennel seeds
✓ poppy seeds
✓ green cardamom
✓ saffron
✓ rose petals
I did not have melon seeds on hand so I skipped them, but if you do add 2 tablespoons of melon seeds to the mix too.
All these spices make this a very fragrant powder and that's why it's so versatile.
Uses of Thandai Powder
You can obviously flavor the milk with it and make thandai.
But you can also add it several desserts like to kheer, rabdi, even to cakes, cheesecakes, yogurt!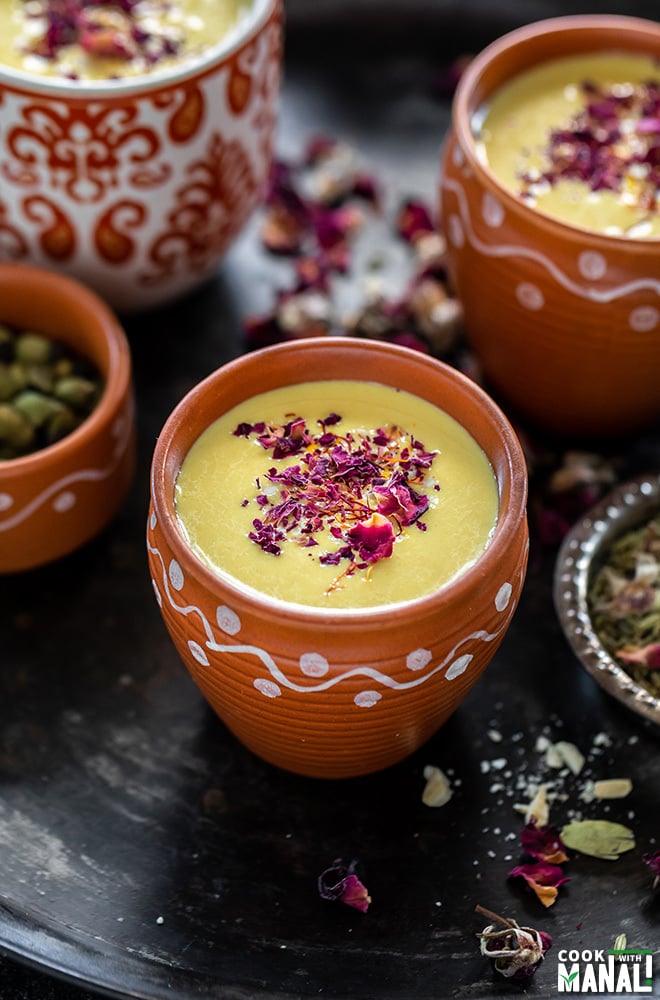 I have a super simple dessert recipe coming up on the blog next week which uses this thandai powder. You guys will love it, so stay tuned!
How to make Thandai using thandai powder?
If you have made this homemade thandai masala powder and want to make thandai. Warm 1 cup of milk of your choice in a pan.
Add around 1 tablespoon of the thandai powder and sweetener to taste. Stir so everything is well combined and then strain in serving cup.
If you want to have it chilled, simply let the flavored milk stay like that for 1 hour or so that it soaks all the flavors of the masala and then strain in cup and chill for few hours before serving.
You can find thandai powder in stores but it's very easy to make home. If you have all the ingredients at home, you only need to grind everything in a spice grinder and done.
Store the powder in airtight container, it should be good for months. Enjoy!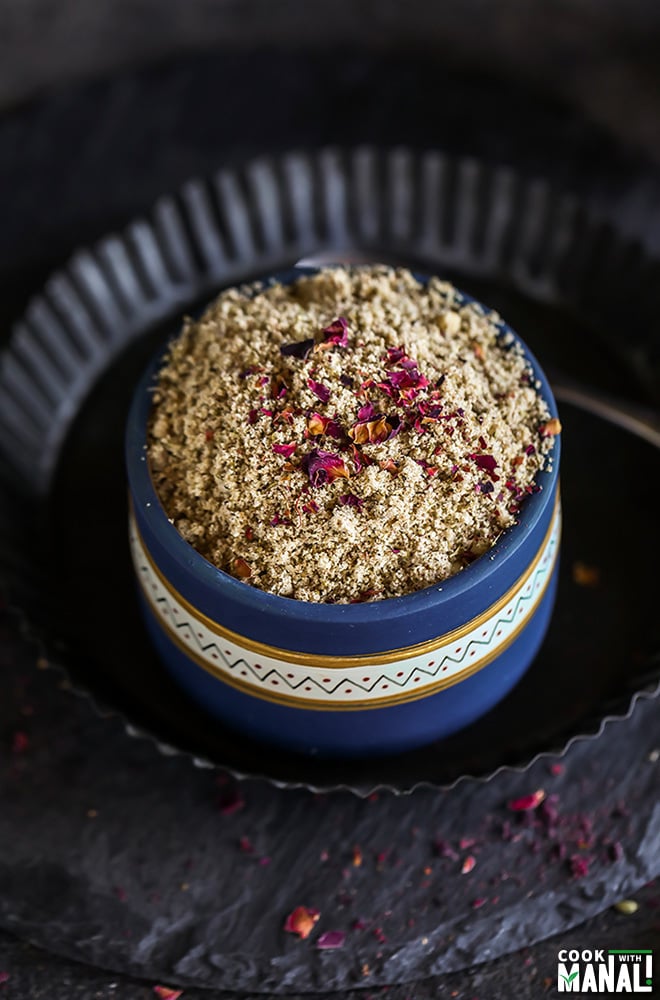 PS: I don't have a step by step picture here since it's all about adding all the ingredients to a grinder. There's nothing else really!
If you've tried this Thandai Powder Recipe then don't forget to rate the recipe! You can also follow me on Facebook and Instagram to see what's latest in my kitchen!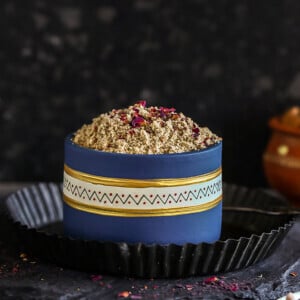 A special blend of spices like cardamom, saffron, fennel, rose, this powder is a great way to flavor milk or any dessert!
Ingredients
1/2

cup

almonds

70 grams

1/3

cup

cashews

50 grams

1

teaspoon

whole black peppercorns

2

tablespoon

fennel seeds

2

tablespoon

poppy seeds

30

green cardamom pods

2

tablespoons

dried rose petals

1/4

teaspoon

saffron strands
Instructions
To make the thandai powder, add all ingredients to a spice grinder.

Grind until you get a smooth powder. Store in an airtight container and use as needed.
To Make Thandai
Heat 1 cup (240 ml) of milk in a saucepan on medium heat. Once it's warm, add 1 tablespoon thandai powder to it along with 1-2 teaspoons of sugar (as per taste).

Stir until everything is well combined. Serve warm or cold.
Notes
This recipes make around 165 grams (1 3/4 cups) of thandai powder. Store in an airtight container, it will last for month!
The nutritional value given here is for 1 cup. 1 tablespoon of this powder has around 30 calories. 
Nutrition
Calories:
491
kcal
,
Carbohydrates:
41
g
,
Protein:
17
g
,
Fat:
33
g
,
Saturated Fat:
3
g
,
Sodium:
16
mg
,
Potassium:
925
mg
,
Fiber:
18
g
,
Sugar:
2
g
,
Vitamin C:
7.6
mg
,
Calcium:
428
mg
,
Iron:
9.2
mg
Nutrition information is automatically calculated, so should only be used as an approximation.
Your feedback is valuable!
Please share your comments, ratings, and any suggestions or adaptations below to help us improve and make our recipes more successful.