Vegetable Cheese Omelette
Apr 09, 2014, Updated Jan 02, 2018
A healthy omelette made with lots of veggies and some cheese - perfect start to your day!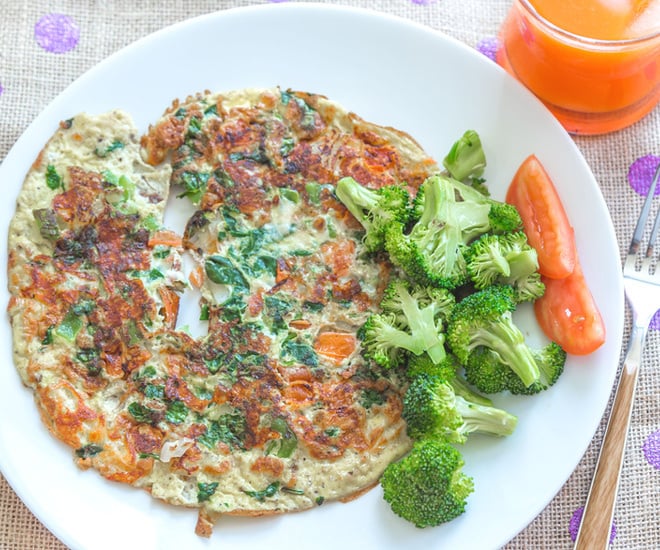 I am not a huge fan of omelette but then there are days when I feel like having one for breakfast/lunch. But the deal is that I need to make it myself and only then I will be able to eat it. The omelette that we get in US cafes and restaurants is not cooked well according to Indian standards. We are used to eating a well done omelette but here people love under-cooked eggs and so it's very difficult for me to get an omelette of my choice.
The other reason is portion size, oh my god you have to see how huge are the omelette here! Once we went to a popular cafe, I ordered their veggie omelette and when it was served it took me 10 minutes to get over the fact that how huge it was. It was made of around 12 eggs, no less. It was so thick, I guess I ate 1/4th of it. So yeah compared to that this omelette would appear very thin. Well that's because it's made using 2 eggs and that's all I can eat. But you can add as many eggs as you like, I know my brothers would totally do that!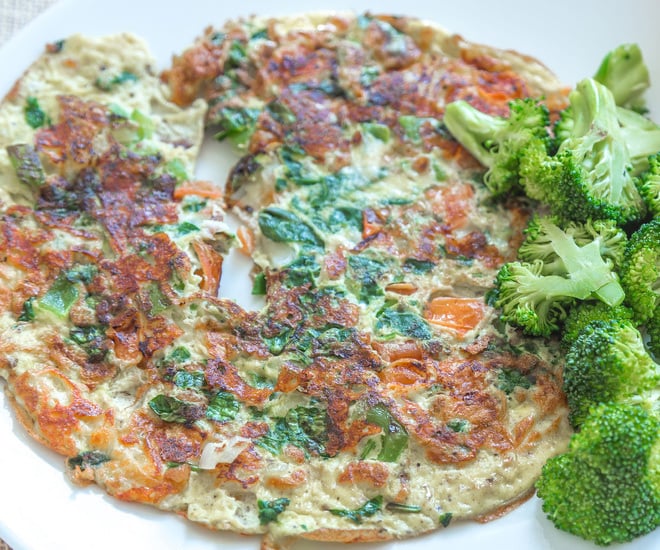 This is a simple veggie and cheese omelette recipe which I often make. You can add as many veggies as you like, the ones I used here were the ones available in my fridge that day. Coming to cheese I used mozzarella and I know the quantity I used is quite less compared to what people expect in a cheese omelette. Well, that's why I wrote 2-3 tbsp of cheese or as much as you like! So add cheese to your heart's content and you can use any cheese here, mozzarella is what I had.
You can add green chillies here, just chop them finely and add to the egg batter. Grated carrots would taste great too, so you can mix and match and come up with many combinations. Either way the omelette tastes great.
By the way it's Omelet or Omelette? Google says both are accepted well doesn't matter, either way omelette is good for you! Enjoy your healthy breakfast!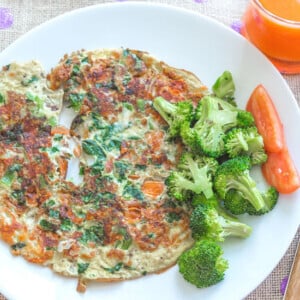 A healthy omelette made with lots of veggies and some cheese - perfect start to your day!
Ingredients
2

eggs

2

tbsp

milk

3

tbsp

chopped spinach leaves

2

tbsp

chopped tomatoes

2

tbsp

chopped green pepper

2

tbsp

chopped onions

1

tsp

butter

or use oil

¼

tsp

garam masala

salt

to taste

pepper

to taste

2-3

tbsp

grated cheese

or as much as you like

2

tbsp

chopped cilantro leaves
Instructions
In a bowl whisk together eggs, milk, salt, pepper, garam masala, chopped coriander leaves and red chilli powder.

Chop all your veggies finely.

Heat a skillet/pan on medium heat. Add 1 tsp of oil or butter.

Pour the egg mixture on the pan, rotate the pan to make sure the mixture is evenly spread.

After 1-2 minutes, sprinkle the veggies uniformly so that they cover the entire omelette. Also sprinkle the cheese. Press the veggies slightly using a spatula.

Pour little oil on the sides of the omelette and cook till edges are golden brown in color.

Flip carefully taking care not to break the omelette. Cook the other sides till it's well done.

Transfer to serving plate and serve with a side of roasted potatoes/fruits.
Nutrition
Calories:
330
kcal
,
Carbohydrates:
8
g
,
Protein:
21
g
,
Fat:
23
g
,
Saturated Fat:
12
g
,
Cholesterol:
372
mg
,
Sodium:
447
mg
,
Potassium:
464
mg
,
Fiber:
2
g
,
Sugar:
4
g
,
Vitamin A:
5375
IU
,
Vitamin C:
31.7
mg
,
Calcium:
340
mg
,
Iron:
3.2
mg
Nutrition information is automatically calculated, so should only be used as an approximation.
Your feedback is valuable!
Please share your comments, ratings, and any suggestions or adaptations below to help us improve and make our recipes more successful.