Virgin Blackberry Ginger Mojito – a refreshing drink to enjoy this summer! Made with Zevia, this refreshing drink is sugar free!
If you have been following my blog for a while, you would know that I don't really drink alcohol. I have nothing against it or those who drink it, it's just that I could never bring myself to like/enjoy it's taste. So I guess that's about it and my husband is exactly the same. We both also don't enjoy the sugar laden soda and juices available in the market and now you must be wondering then what exactly do we drink when we are crave something bubbly and refreshing? Well, I make lots of non-alcoholic drinks at home especially as it starts getting warmer. And most of the time, I use Zevia to create these drinks. They are not only delicious but also contain no sugar, thanks to Zevia!
I am so excited to be sharing this Virgin Blackberry Ginger Mojito recipe which is naturally sweetened with blackberry and Zevia Ginger Ale Soda. It's the perfect summer drink and one that can be enjoyed by the whole family.
Zevia contains no sugar, no calories, and is naturally sweetened with stevia. Did you guys know that stevia, a small plant provides 200 times the sweetness of sugar but has no caloric value or nor does it raise blood sugar levels. That's so cool right? I love the fact that with Zevia I can create refreshing beverages without increasing my sugar consumption. Not only is it vegan, non-GMO but also certified gluten free! My favorite is the Zevia Ginger Ale Soda and that is what I have used in this recipe.
This virgin blackberry ginger mojito is so refreshing you guys!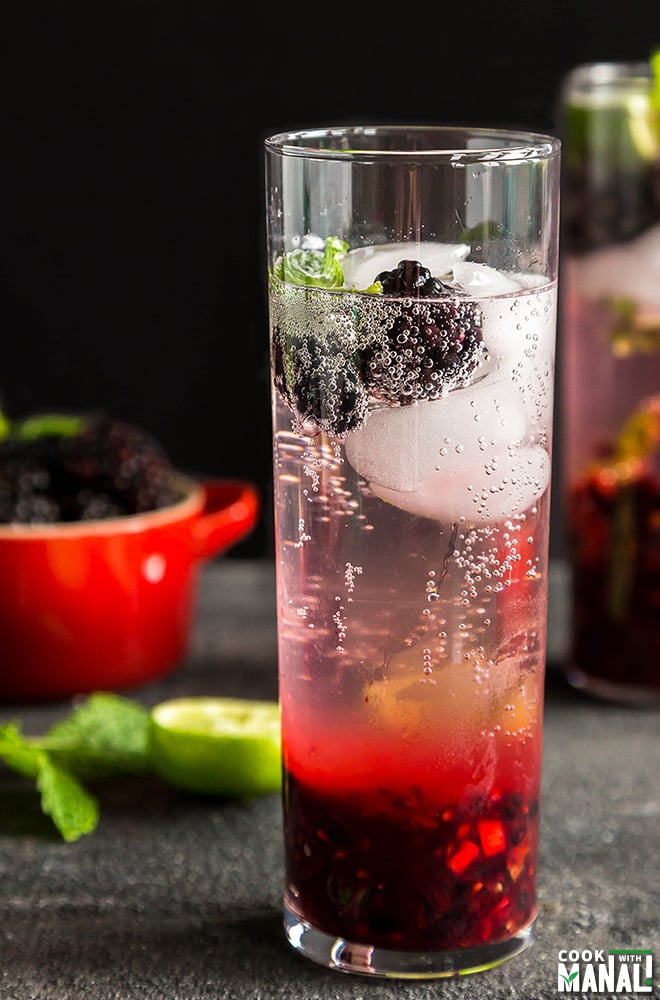 Bubbly!
Berry season is upon us and you will be seeing them everywhere. I love all berries and buy them in bulk all through summers. I eat them as such, add them to smoothies, bake with them and also use them to make refreshing drinks. The other day I got a big box of blackberries and I thought of creating this naturally sweetened drink recipe to share with you guys. It's beginning to get hot and when it gets hot there's nothing more refreshing that a cold bubbly drink. The best part with this virgin blackberry ginger mojito is that it's naturally sweetened so you can enjoy it all summer long without any guilt!
To make this mojito is super simple. Place blackberries, mint leaves, ginger and lime juice in your glasses. Muddle them to release their juices. If you don't have a muddler that's fine, simply use a mortar to crush them. Once you have extracted the juices, fill the glasses with ice and then top with Zevia Ginger Ale Soda. Garnish with lime wedges, blackberries, fresh mint leaves and serve! It's super refreshing and so perfect for the hot weather.
You can find Zevia at your local grocery stores. Go here and find out your nearest location and get yourself a pack of Zevia to enjoy! And you can also win Zevia soda my participating in a fun giveaway on Instagram. I will be posting it on my Instagram soon so keep an eye on it. Hope you guys enjoy this refreshing mojito this summer!
Virgin Blackberry Ginger Mojito
Refreshing Virgin Blackberry Ginger Mojito is the perfect summer drink to enjoy with your family!
Ingredients
1/2

cup

blackberries [around 12-13 in number]

15

mint leaves

1/4

inch

ginger

, finely chopped

juice of 1 lime

1

can Zevia Ginger Ale Soda

ice cubes

lime

, for garnish

mint leaves

, for garnish
Instructions
Divide blackberries, ginger, mint leaves and lime juice equally between 2 glasses.

Muddle blackberries with ginger, mint leaves and lime juice to release their juices.

Fill the glasses with ice cubes and then top with Zevia Ginger Ale Soda

Garnish with fresh mint, lime wedges and blackberries. Serve immediately!
Virgin Blackberry Ginger Mojito