What does fall reminds you of? Pumpkins? Apples? Cinnamon? Well whatever it may be, in my opinion all fall flavors are equally amazing! No wonder it's my favorite time of the year, not only does it look beautiful outside, I also get to bake all my favorite recipes. Even though I love baking any day any time of the year but when you bake during fall, your kitchen more often than not is filled with the aroma of all these amazing spices – cinnamon, nutmeg, cloves, ginger etc. and that's what I love the most!
And what do I hate the most? That it's already becoming grey and cloudy and if you are a food blogger, you would know how much we love the sun. With the days getting shorter, I would need to cook and click in the morning and that too with minimal sunlight. I am already missing the long summer days when I could shoot till like 7 pm in the evening. Oh well!
Coming to today's recipe, one of my favorite fall treats is an apple spice cake. Soft, moist apple cake filled with all those amazing spices, it's like fall in every bite – need I say more? I baked this cake in a bundt pan, the reason being I got this pan a while back and never got the opportunity to use it till now. So I though what better time to use it than fall? and I am so glad I did because the cake looked so pretty when it came out of the pan, I am going to use my bundt pan more often now.
This apple spice cake was moist and full of fall flavors. What made it soft and moist was the use of a) oil b) brown sugar c) applesauce. I love using applesauce in my recipes, it keeps baked  goods moist if used in correct quantity. Too much of it and your cake will turn sticky, yes been there done that so make sure to not get carried away with this ingredient.
I love maple glaze and for this cake, I just mixed it with little spices to make it perfect for this spiced cake.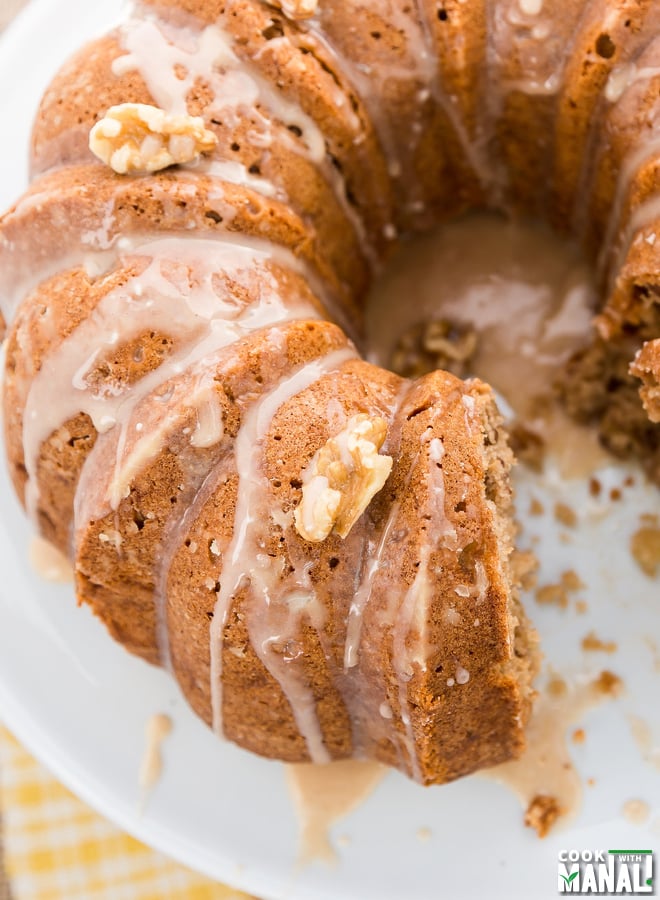 Method
* Preheat oven to 325 F degrees. Chop the walnuts and spread them on a baking tray. Roast the nuts in the oven for 7-8 minutes or till they are fragrant. [Be careful not to burn the nuts]
In a bowl whisk together all purpose flour, baking powder, salt, cinnamon and nutmeg powder. Set aside.
Peel the apples and finely chop them into small pieces. Mix the chopped apples along with the toasted walnuts in a bowl and set aside.
In the steel bowl of your stand mixer fitted with paddle attachment or using your hand mixer beat together oil, both the sugars and applesauce till well combined, around 2 minutes.
Now crack 3 eggs into the batter, also add the vanilla.
Mix for 2 minutes till well combined.
Start adding the flour mixture into the wet ingredients. Do not add the entire flour in one go, add in 3 parts.
Add the flour in 3 parts, mixing after every addition till well combined. But remember not to overmix.
Using a spatula, fold in the chopped apples and walnuts.
Transfer batter to a greased bundt pan [12 cup bundt pan].
Bake at 325 F degrees for around 75 minutes or till a toothpick inserted in the center comes out clean. Let the cake cool in the pan for 10 minutes before transferring it to a wire rack to cool completely.
Make the maple glaze by mixing together confectioners sugar, cinnamon powder, maple syrup and milk till well combined. Pour the glaze on the apple spice cake cake and serve immediately.
* You can replace walnuts with pecans.
* Adjust the quantity of spices in the glaze according to taste. I used a little since the cake already had a lot of spices so I wanted to cut down on them in the glaze.
* I used a 12 cup bundt pan for this cake and it took me around 75 minutes to bake, if you are using a 10 cup bundt pan, the baking time will be less, so keep an eye on the cake after 50-55 minutes.
Apple Spice Cake with Maple Glaze
Soft and moist Apple Spice Cake packed with fall flavors and drizzled with a spiced maple glaze!
Ingredients
3

cups

all purpose flour

1

cup

canola oil

½

cup

apple sauce

1.5

cups

granulated sugar

½

cup

light brown sugar

3

eggs

2

teaspoons

vanilla

2

apples

peeled and finely chopped [around 2 cups + 1 tablespoon]

2

teaspoon

cinnamon

1

teaspoon

nutmeg

3

teaspoon

baking powder

1

teaspoon

salt

1

cup

walnuts

chopped and toasted
Glaze
1

cup

confectioners sugar

2

tablespoons

maple syrup

2.5

tablespoons

milk

¼

teaspoon

cinnamon powder

pinch

nutmeg powder [optional]
Instructions
Glaze
Mix together confectioners sugar, maple syrup, milk, cinnamon and nutmeg till combined.
Cake
Preheat oven to 325 F degrees. Spread chopped walnuts on a baking tray.

Toast the nuts in the oven till fragrant, around 7-8 minutes. Set aside.

Grease a bundt pan and set aside.

In a bowl sift together all purpose flour, salt, baking powder, cinnamon powder and nutmeg. Chop apple into small pieces and combine with toasted walnuts and set aside.

In another bowl beat together oil, applesauce and both the sugar till well combined, around 2 minutes.

Add eggs, vanilla and mix till combined.

Add the dry ingredients in 3 parts and mix till combined but do not overmix.

Fold in the apple and walnuts.

Transfer batter to a 12 cup bundt pan and bake at 325 F degrees for 70-75 minutes or till toothpick inserted in center comes out clean.

Let the cake cool in the pan for 10 minutes and then transfer to a wire rack to cool completely.

Drizzle the glaze all over the cake, cut into pieces and serve immediately.
 Apple Spice Cake with Maple Glaze