Besan Burfi is a popular Indian sweet made with chickpea flour, ghee and flavored with cardamom. This homemade recipe for besan burfi will give you perfect result every time!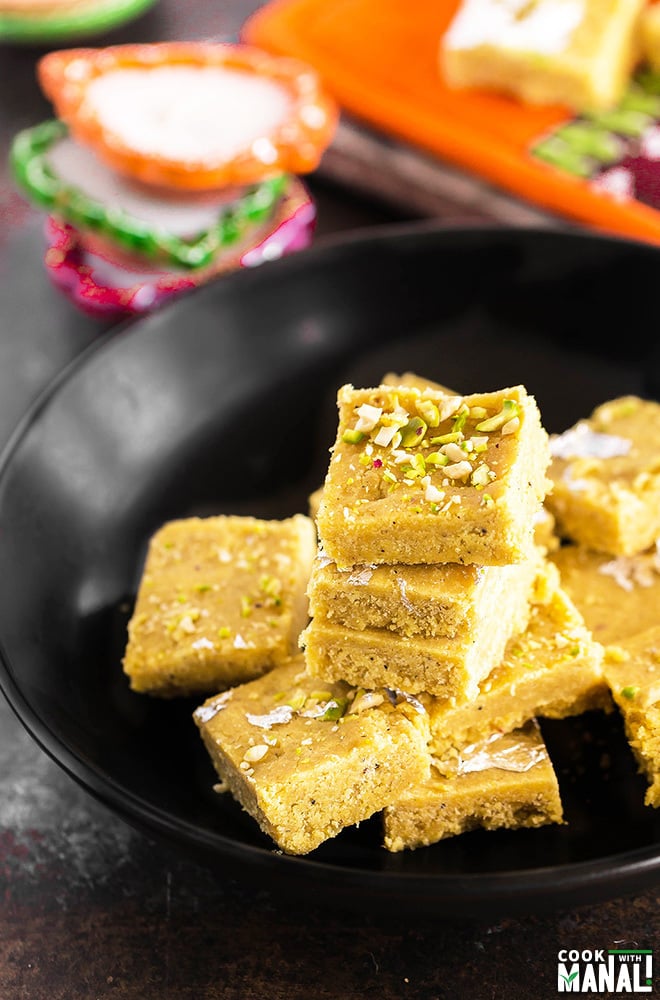 I am in India for Holi after 5 long years. Yeah I had to rush to India again around 10 days back back due to mom's health. It's been stressful and really busy. I have been busy running around the hospital and hence my blog posts have not been that regular too. It feels like I am travelling to India every month and trust me taking a 24 hour flight every month is no fun.  Anyway coming back to Holi, this festival of colors is celebrated all across the country with much joy and enthusiasm and especially in north India, the atmosphere is so much fun and vibrant. Of course the focus is on colors since Holi is all about colors but also equally important is the food. All festivals always revolve around food and holi is no different.
This year Holi falls on 13th of March and I am sure many of you must have already started preparing homemade sweets and snacks. At my home, we always make lots of stuff for Holi. Actually if mom was not sick, things would have been different but since she is in the hospital, till now there's no sight of any preps for Holi. I hope she can return home soon and well before the festival.
So because it's Holi, I wanted to share an easy Indian sweet recipe with you guys. This Besan Burfi (chickpea flour fudge) is one the most popular Indian sweets and this is absolute full proof recipe to get it perfect every single time. If you follow the instructions carefully, I promise you will have the most smooth besan burfi ready in no time.
The most important step in making besan burfi is to roast the besan properly. If your besan is not roasted properly, the burfi will have the raw taste (kaccha taste as we call in Hindi) and trust me it doesn't taste good. I have done that before and I was so disappointed because if your burfi tastes of raw besan after so much of hand workout, it definitely doesn't feel good! So roast the besan properly. I suggest a time of 20 minutes minimum. I roast at medium heat for 10 minutes and then on low for extra 10-15 minutes. If you are a pro at roasting besan then you can very well tell by it's aroma when it's done but if you are not just follow these timings. Stir continuously because you want to make sure the besan is roasted uniformly and you also want to make sure it doesn't get burnt. The besan should still be yellow in color and not dark brown. If it turns dark brown, you have gone bit too far.
Next step is making the sugar syrup. Making the right sugar syrup consistency is important in order for the burfi to set properly. You need to make a 2 string consistency for my recipe. I make 2 string so that the burfi sets immediately as soon as I mix the sugar syrup with the roasted besan. There's always this trouble with burfi that whether it will set or not, so just boil the sugar syrup for around 10 minutes till you have a 2 string consistency (which means when you place a drop of syrup between your thumb and forefinger and move the fingers apart, you can see 2 threads in the syrup, see picture below for reference) and then mix the roasted besan mixture with the syrup. Immediately pour the mixture on the greased plate or parchment lined pan and use a spatula to spread it uniformly. It will be thick so you have to act quickly. The burfi will set with in 5-10 minutes of you spreading the batter onto the prepared pan. Once set cut into pieces and enjoy.
Hope you guys like this easy besan burfi recipe and give it a try this Holi!
Method
Sift besan (chickpea flour) in a large bowl. Add 3 tablespoons ghee and 1/4 cup milk.
Mix the ghee and milk with besan by rubbing the mixture between your fingers till it looks like crumbs. Allow to rest for 10 mins.
Transfer mixture to a food processor and pulse 2-3 times till it's all smooth.
Heat reamining 1 cup ghee in a pan on medium heat. Once ghee melts, add the besan mixture to it.
Roast besan on medium heat for 10 minutes stirring continuously.
Add cardamom powder and lower flame to low and roast another 10 -12 minutes.
Roast till you get nice aroma and color changes. Roasting the besan properly is the most important step in making the perfect besan burfi. Once roasted, remove pan from heat and set aside. Let it cool a bit.
Meanwhile in another pan heat sugar and water on medium-high heat.
Add saffron strands and let the sugar syrup boil for 10 minutes.
After 10 minutes, the syrup will reach a 2 string consistency. To test, just place a drop of syrup between thumb and forefinger and move them apart. You will see formation on 2 threads/strings. At this stage, remove pan from heat.
Put the pan with roasted besan back on low heat and add the prepared sugar syrup mixture to it. Stir vigorously to combine it all together.
Immediately transfer mixture to a greased plate. I used a square baking pan lined with aluminium foil which I had sprayed with non-stick spray. The batter will be thick, spread it immediately using a spatula. Garnish with chopped nuts. Let it set for 5-10 minutes.
Cut besan burfi into pieces and enjoy.
* Prep time includes the time taken by the burfi to set.
Besan Burfi
Popular Indian sweet made with chickpea flour, ghee and flavored with cardamom. Gluten-free dessert!
Ingredients
3

cups

besan

, also known as chickpea flour

1

cup

+ 3 tablespoons ghee

, also known as clarified butter

1/4

cup

milk

1.5

teaspoons

cardamom powder
sugar syrup
2

cups

minus 1 to 2 tablespoons sugar

, basically little less than 2 cups

2/3

cup

water

, just enough water to cover the sugar

saffron strands
Instructions
Sift besan (chickpea flour) in a large bowl. Add 3 tablespoons ghee and 1/4 cup milk.

Mix the ghee and milk with besan by rubbing the mixture between your fingers till it looks like crumbs. Allow to rest for 10 mins.

Transfer mixture to a food processor and pulse 2-3 times till it's all smooth.

Heat remaining 1 cup ghee in a pan on medium heat. Once ghee melts, add the besan mixture to it.

Roast besan on medium heat for 10 minutes stirring continuously.

Add cardamom powder and lower flame to low and roast another 10 -12 minutes.

Roast till you get nice aroma and color changes. Roasting the besan properly is the most important step in making the perfect besan burfi.

Once roasted, remove pan from heat and set aside. Let it cool a bit.

Meanwhile in another pan heat sugar and water on medium-high heat.

Add saffron strands and let the sugar syrup boil for 10 minutes.

After 10 minutes, the syrup will reach a 2 string consistency. To test, just place a drop of syrup between thumb and forefinger and move them apart. You will see formation on 2 threads/strings. (see picture above for reference). At this stage, remove sugar syrup from heat.

Put the pan with roasted besan back on low heat and add the prepared sugar syrup mixture to it. Stir vigorously to combine it all together.

Immediately transfer mixture to a greased plate. I used a square baking pan lined with aluminium foil which I had sprayed with non-stick spray.

The batter will be thick, spread it immediately using a spatula. Garnish with chopped nuts.

Let it set for 5-10 minutes.

Cut besan burfi into pieces and enjoy
Besan Burfi