Chunky Guacamole
Feb 24, 2016, Updated Jan 02, 2018
Super easy and always a crowd pleaser, this Chunky Guacamole is naturally gluten-free and vegan!
This Chunky Guacamole is super easy to make and requires only handful of ingredients. It's naturally gluten-free and vegan!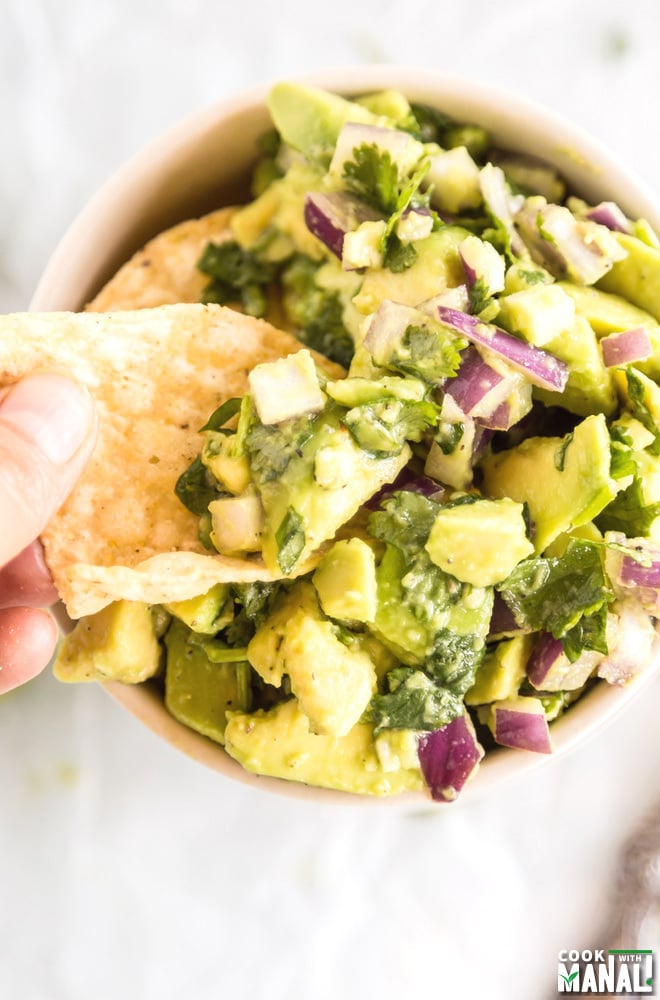 Raise your hand if you are a fan of chunky guacamole! Yes yes I know way too many hands went up! I don't blame you guys, chunky guacamole is just so much better. I am not saying that regular one is bad, that's pretty good too but the chunkier version is just so much better. I think it's the same way with granola, isn't it? I am always looking for those granola clusters!
The first time I had guacamole was around 4 years back at Chipotle. Actually that was the first time I ever had Mexican food too. I was never a foodie before I got married so I hardly ventured out of my comfort zone (of course it's a totally different story now!!). Anyway I remember hubby took me to Chipotle one day and I asked him what this green thing is, because I thought it was delicious. So he told me that it's a dip made with something called avocados, I had never heard of avocados either. I don't know why but I just assumed that this must be super difficult to make. I mean seriously, what can be easier than guacamole? but back then I thought everything was difficult to make except chai and sandwich!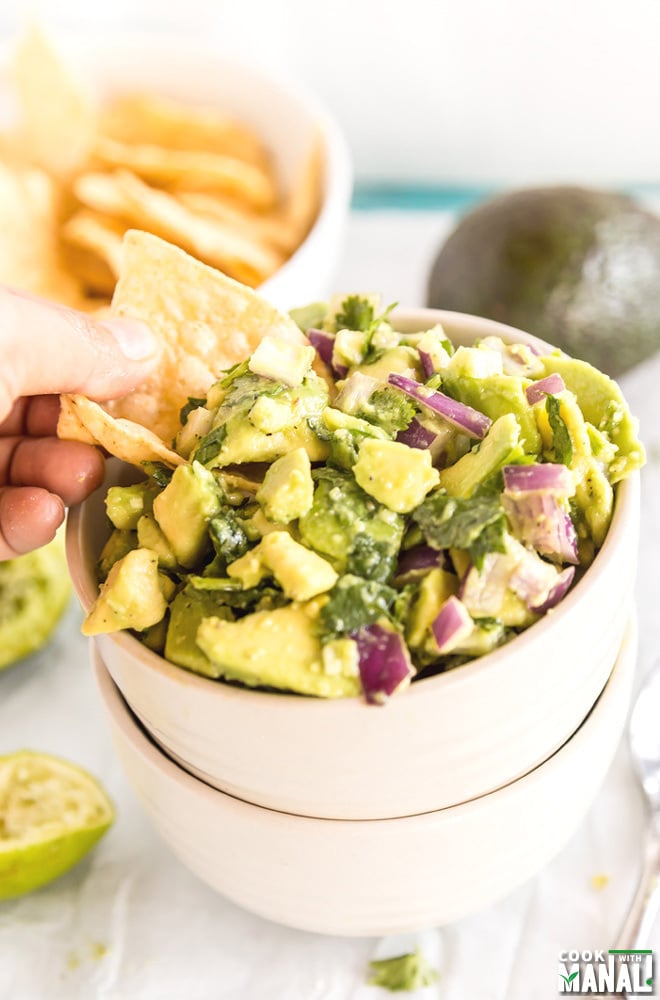 But then one day I gathered some courage, bought avocados from store, watched some videos and made guacamole and thought "what took me so long, that was so easy"! Ever since I have always made guacamole at home, I never buy it from the stores because I think something as simple and basic like guacamole should always be homemade. This chunky version is one of my favorites! The chunky avocados really add a lot of texture to this guacamole especially when you want to eat it with chips or on top of your burrito bowl.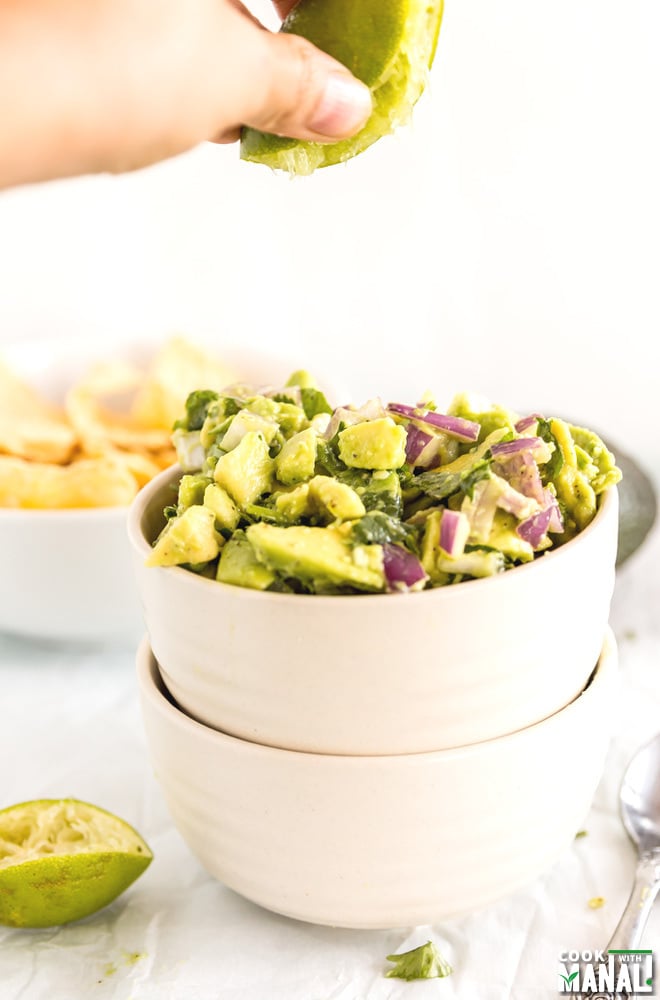 There's a lot that you can add to your guac, I kept it simple with only onions, cilantro, garlic and lime juice and of course some salt and pepper. I like this version a lot since it lets the avocados shine. You can obviously add tomatoes if you want to. Hope you guys enjoy this chunk guacamole with some chips!
* Make sure to pick the right avocados for this chunky version. They should be ripe but firm so press the avocados when you buy them, the firm ones would yield to pressure. Over-ripe will feel too mushy and unripe would be too hard when you press.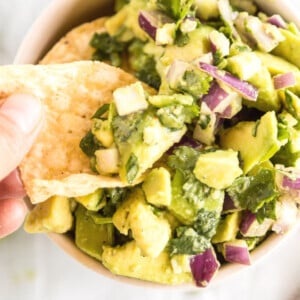 Super easy and always a crowd pleaser, this Chunky Guacamole is naturally gluten-free and vegan!
Ingredients
2

ripe & firm avocados

1/4

cup

chopped red onion

1.5

tablespoons

lime juice

1/4

cup

chopped cilantro

1

teaspoon

finely chopped garlic

salt

to taste

black pepper

to taste
Instructions
Dice the avocados and transfer to a bowl. Mash few pieces slightly using a fork. It should remain chunky.

Add chopped onion, garlic and cilantro and mix.

Add salt and pepper to taste. Squeeze in some fresh lime juice and mix till well combined.

Serve immediately with some chips and enjoy!
Nutrition
Calories:
673
kcal
,
Carbohydrates:
41
g
,
Protein:
8
g
,
Fat:
59
g
,
Saturated Fat:
8
g
,
Sodium:
32
mg
,
Potassium:
2008
mg
,
Fiber:
27
g
,
Sugar:
4
g
,
Vitamin A:
855
IU
,
Vitamin C:
52.6
mg
,
Calcium:
48
mg
,
Iron:
2.2
mg
Nutrition information is automatically calculated, so should only be used as an approximation.
Your feedback is valuable!
Please share your comments, ratings, and any suggestions or adaptations below to help us improve and make our recipes more successful.
Chunky Guacamole