Kaju Kishmish Ice Cream
Simple no-churn ice cream flavored with milk powder, cashews and raisins! This Kaju Kishmish Ice Cream is a unique ice cream flavor to enjoy this summer!
An easy no-churn ice cream made with cashews and raisins! This Kaju Kishmish Ice Cream requires only few ingredients and makes a refreshing summer treat!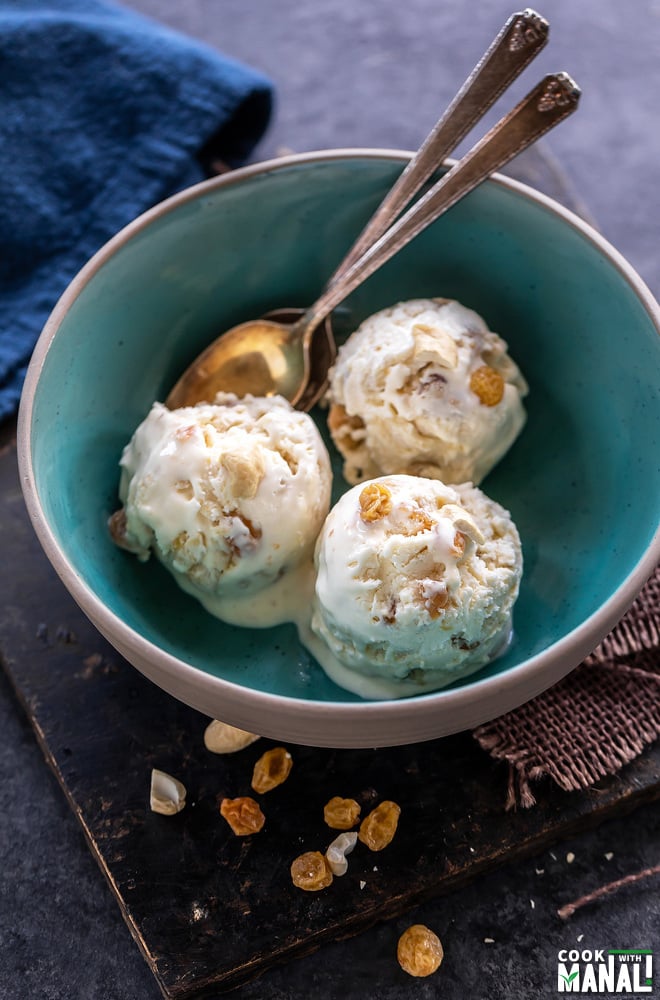 I make no churn ice creams on repeat during summers.
To tell you guys the truth, I do have an ice cream attachment with my stand mixer and I have used it in the past.
But mostly, I am just lazy to take it out and prepare the base and chill it.
So, when the ice cream craving kicks in, I want to make it immediately and since no churn ice creams are so easy, I always end up making them.
Sarvesh has been requesting me for quite a while now to make Kaju Kishmish Ice Cream
Kaju=cashews and kishmish=raisins. This is a commonly available flavor in India and one that he really loved as a child.
I don't remember being very fond of this flavor and hence I didn't even remember how it was supposed to taste.
But I thought of using the base recipe for no churn ice cream and then making a quick mawa/khoya (using cream and milk powder) and then adding cashews and raisins to it.
I am not sure how close it turned out to the kaju kishmish ice cream in India but Sarvesh said, this was his favorite ice cream of the season so far. He rated it higher than the Kesar Elaichi Ice Cream and also the Butterscotch Ice Cream!
Since he loved it so much, I had to share the recipe with you guys!
This Kaju Kishmish Ice Cream
✔is eggless and no churn.
✔made without an ice cream maker.
✔gets done in 15 minutes!
✔makes a unique ice cream flavor to enjoy this summer!
This ice cream has a lot of added flavor from the quick mawa/khoya made from the milk powder and cream.
It makes it so much richer in taste and also adds to flavor.
For the instant mawa, I mix the cream and milk powder until combined and I don't really cook it much since I am not going to use this mawa for making any sweets.
So once the milk powder and cream is mixed, add in the cashews and raisins and cook them for around 2 to 3 minutes. And that's about it, let this raisins and cashew mixture cool down a bit and then add it to the ice cream base.
It's a little extra-step but it really make a difference.
Ingredients for the Ice Cream
This recipes uses 5 basic ingredients, 6 if you count the vanilla!
Heavy cream: you need heavy cream with minimum fat percentage of 35% to make no-churn ice creams. Do not use low fat cream here, it will not work and your ice cream will not be creamy enough.
Condensed milk: the sweetened condensed milk makes the perfect pair with the heavy cream for the no-churn ice cream. The combination of heavy cream and milk powder results in an ice cream which is creamy and has no crystals.
The recipe uses a 14 oz can of condensed milk, however you can add a little less if you prefer your ice cream to be not very sweet.
I would suggest adding 75% of the can in the that case.
Cashews: for this recipe, I have used unsalted, raw cashews. I roughly chopped them before using in the recipe.
Raisins: the other star ingredients of this recipe is raisin. I have used golden raisins here, the black raisins should also work.
Milk powder: we need milk powder here for the quick mawa recipe that we make for the ice cream base.
My recommendation for dried milk powder is always Nestle Nido. It's a smooth milk powder which works very well for not only this ice cream but also for Indian sweets like this chocolate burfi.
The last ingredient for this ice cream is vanilla extract. Do use pure vanilla extract for best results.
If you want, you can even add some ground cardamom here. I really wanted to add it but Sarvesh told me the one in India didn't have any cardamom in it so I skipped it.
Freezing the Ice Cream
Use an ice cream container to freeze it. I like a silicone one that I have.
I also like to cover mine with a plastic wrap first and then cover with a lid. This helps prevent freezer burn.
Freeze overnight for best results. This ice cream becomes quite solid when frozen, so leave it out for 10 minutes at room temperature before serving.
Serve in bowls or waffles cones (that's my favorite) and enjoy!
If you've tried this Kaju Kishmish Ice Cream Recipe then don't forget to rate the recipe! You can also follow me on Facebook, Instagram to see what's latest in my kitchen!
Simple no-churn ice cream flavored with milk powder, cashews and raisins! This Kaju Kishmish Ice Cream is a unique ice cream flavor to enjoy this summer!
Ingredients
2

cup + 1/4 cup

heavy cream

16 oz + 2 oz, divided

1/3

cup + 1 tablespoon

milk powder

43 grams

1/2

cup

cashews

70 grams, raw, unsalted, roughly chopped

1/2

cup

golden raisins

70 grams

14

oz can

condensed milk

or add only 3/4 of the can to reduce sweetness

3/4

teaspoon

vanilla extract
Instructions
To a small pan on medium heat, add 1/4 cup (2 oz) heavy cream. Add milk powder to it.

Mix until both are well combined and cook for 1 to 2 minutes.

Then add the cashews and raisins and cook for around 2 to 3 minutes on medium heat. The milk powder and cream mixture solidifies (becomes like mawa/khoya). Remove pan from heat and let it cool down a bit.

Meanwhile, beat the remaining 2 cups (16 oz) heavy cream using the wire whisk attachment of your stand mixer (or use your hand mixer), until it forms peaks. Remember to not over-beat else it will separate. Set it aside.

It's a good idea to chill the bowl and the whisk attachment for 20 minutes before you beat the cream in it. The cream should also be cold.

Add condensed milk to a large bowl and then add vanilla extract to it and mix.

Start adding the whipped cream into the condensed milk. Take a small amount of the whipped cream and start mixing by moving the spatula in one direction. Fold the whipped cream in parts and fold slowly until all of the whipped cream is combined.

Then, add the prepare mawa-cashew-raisins mixture. Mix until it's all combined with the base.

Transfer ice cream to an ice cream container (or any freezer safe container) and freeze overnight.

To serve, take out the ice cream from the freezer and let it remain at room temperature for 10 minutes. Then scoop and serve.
Notes
You may add some ground cardamom to the ice cream base if you like.
Since the raisins also add sweetness to the ice cream, you can cut down on the condensed milk. You can add 3/4 of the condensed milk can. 
Nutrition
Calories:
494
kcal
,
Carbohydrates:
43
g
,
Protein:
10
g
,
Fat:
33
g
,
Saturated Fat:
19
g
,
Cholesterol:
109
mg
,
Sodium:
131
mg
,
Potassium:
505
mg
,
Fiber:
1
g
,
Sugar:
37
g
,
Vitamin A:
1111
IU
,
Vitamin C:
3
mg
,
Calcium:
294
mg
,
Iron:
1
mg
Nutrition information is automatically calculated, so should only be used as an approximation.
Your feedback is valuable!
Please share your comments, ratings, and any suggestions or adaptations below to help us improve and make our recipes more successful.