Nutella Pumpkin Spice Latte
Nov 02, 2016, Updated Jan 02, 2018
Nutella Pumpkin Spice Latte - your homemade pumpkin spice latte with a nutella twist!
Nutella Pumpkin Spice Latte – Homemade pumpkin spice latte with a nutella twist!
Happy November! This year is just flying, I think I will blink one more time and we will be in December. I have really no idea where this year went by. Yesterday I read a tweet which said "I swear, October lasted like 5 minutes". My sentiments exactly! Anyway what did you guys do for Halloween? We didn't do anything much other than of course giving out candies. God, I have so much leftover chocolates that I don't know what to do with them. My husband insists on buying full size candies for Halloween (not the mini ones which people usually buy!) because according to him, kids come only once a year so why not give them nice treats. Okay fair enough but now what do I do with like 50 full size snickers, kit kat, twix etc. etc. Argh! I know there are ways to use them in recipes but this is way too much candy to use in any recipe. I guess I will just end up donating it.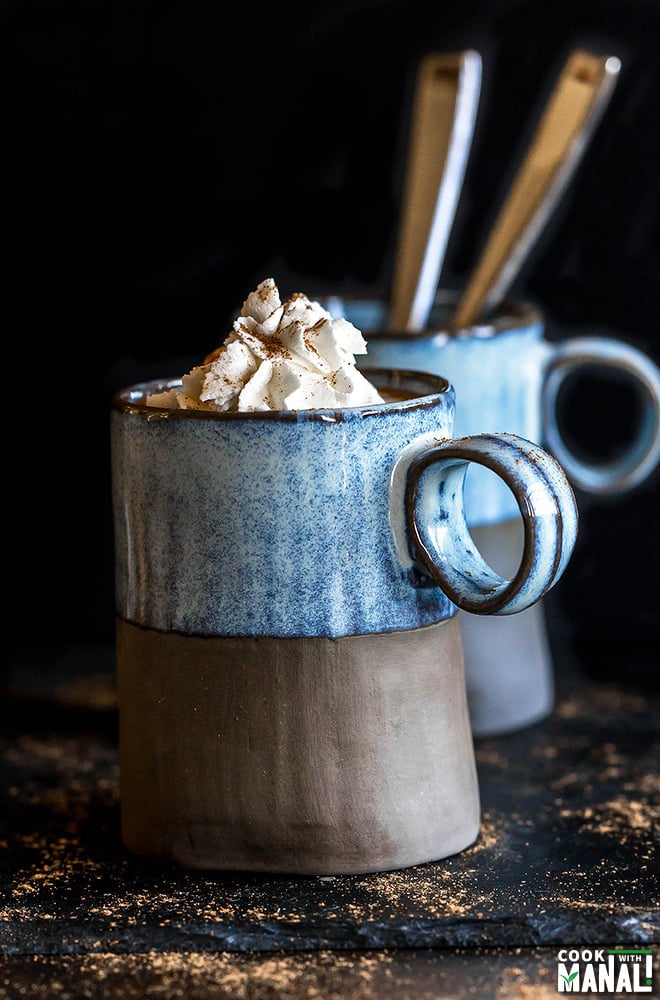 The holiday season is officially here. Actually it's been quite cold here for last week or so it definitely feels like winter already. Constant rain and cold wind makes me want to sip on this Nutella Pumpkin Spice Latte a lot these days. Do you guys like Pumpkin Spice Latte? If you do then you would love this nutella twist on it. Remember I told you guys that I would post another recipe with this combination when I posted the Nutella Pumpkin Bread? So yeah, here it is Nutella Pumpkin Spice Latte – basically the best latte you can have this fall!
This latte has all the warm spices and then there's nutella – I mean what's not to love?! Other than calories of course ? But this latte is like a treat, which you drink once in a while and not everyday and once in a while calories are totally fine. Isn't it? This drink is super easy to make. All you have to do it brew a cup of strong coffee and then mix it with nutella, milk and some pumpkin pie spice and then pour into cups and enjoy. Of course, a little fresh whipped cream on top doesn't hurt! I also like to sprinkle some spices on top of the whipped cream, you can use cinnamon powder or pumpkin pie spice, whichever you like for garnishing.
This will make 2 small cups of nutella pumpkin spice latte. You can double the recipe if you want to make 2 large cups. Also you can adjust the amount of nutella and pumpkin pie spice to taste. Just taste the latte before pouring into cups and adjust accordingly. I will not blame you for adding an extra tablespoon of nutella or so!?
Nutella Pumpkin Spice Latte
Nutella Pumpkin Spice Latte - your homemade pumpkin spice latte with a nutella twist!
Ingredients
1/2

cup

milk

2-2.5

tablespoons

nutella

1/4

teaspoon

pumpkin pie spice

whipped cream

to serve
Instructions
In a pan on medium heat melt nutella with 1 cup of strong brewed coffee. Stir till nutella dissolves.

Add pumpkin pie spice to the pan and mix.

Add milk, stir and pour into serving cups.

Top with whipped cream, sprinkle some pumpkin pie spice on top and serve.
Nutrition
Calories:
139
kcal
,
Carbohydrates:
14
g
,
Protein:
3
g
,
Fat:
7
g
,
Saturated Fat:
6
g
,
Cholesterol:
6
mg
,
Sodium:
36
mg
,
Potassium:
213
mg
,
Fiber:
1
g
,
Sugar:
13
g
,
Vitamin A:
100
IU
,
Calcium:
89
mg
,
Iron:
0.8
mg
Nutrition information is automatically calculated, so should only be used as an approximation.
Your feedback is valuable!
Please share your comments, ratings, and any suggestions or adaptations below to help us improve and make our recipes more successful.
Nutella Pumpkin Spice Latte