Pumpkin Streusel Muffins
Oct 16, 2014, Updated Jan 02, 2018
Moist and tender Pumpkin Muffins topped with a brown sugar and oats streusel.
Pumpkin Streusel Muffins – most pumpkin muffins topped with delicious oats streusel. Perfect for fall!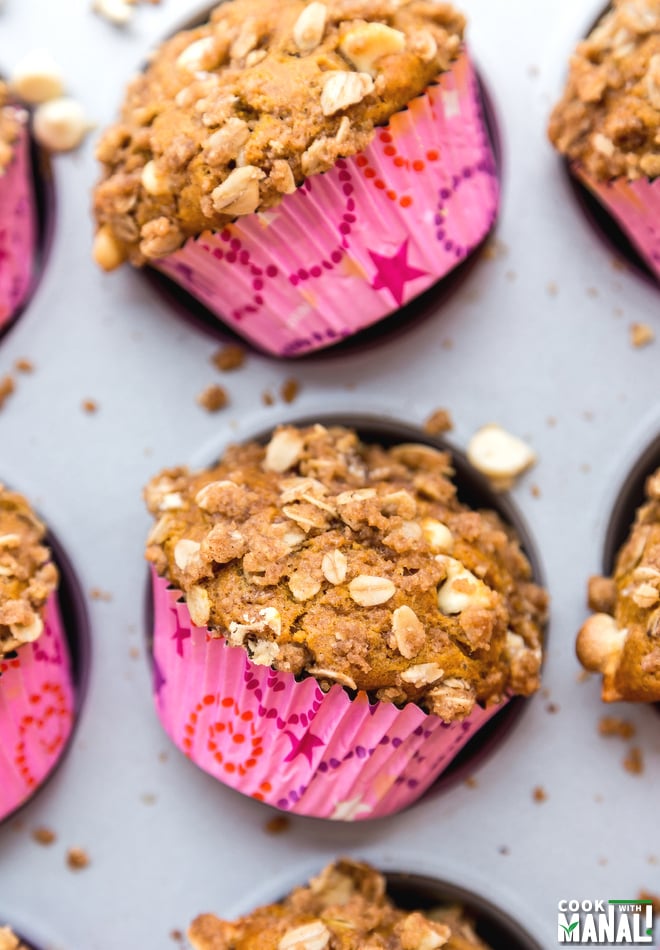 There are pumpkins everywhere. Literally. Yesterday I went to Trader Joe's and all I could see was pumpkin and pumpkin products. There was pumpkin butter, pumpkin bars, pumpkin chai, pumpkin cereal, pumpkin ravioli, pumpkin granola, pumpkin oatmeal and 10,000 other stuff which I can't seem to remember! Didn't I say there are pumpkins everywhere! There's no escaping them during this time of the year. And so it was obvious that I couldn't have stayed away from a pumpkin recipe for too long.
Today's pumpkin streusel muffins are one of the best muffins I have ever baked. They are tender, moist and bursting with pumpkin flavor. So good!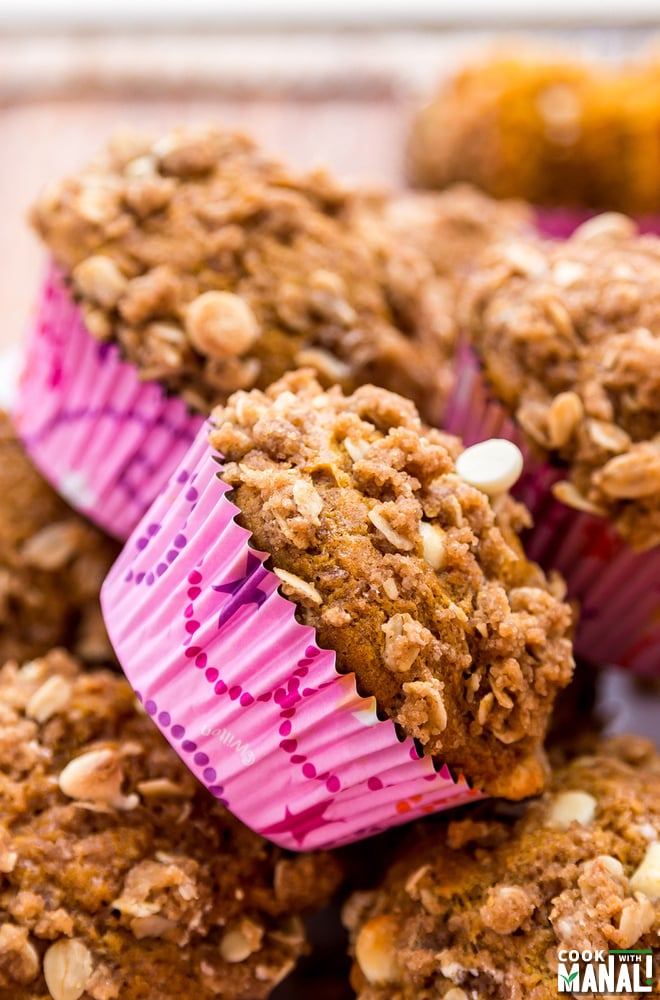 I used canola oil and greek yogurt in this recipe and highly recommend them. These 2 ingredients really made the muffins super moist.  And like I always say the key to a soft tender muffin is to mix the batter till just combined. Over-mixing will result in a hard muffin which no one wants to eat! I also sprinkled some white chocolate chip on top but that's optional. Honestly speaking I am not a big fan of white chocolate but it went well these muffins.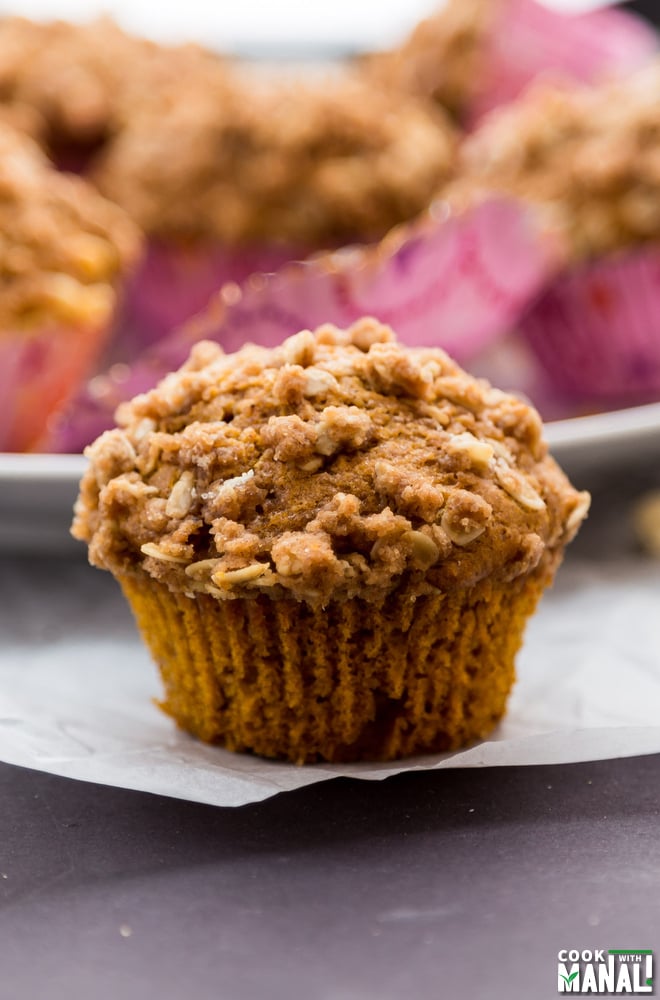 How to get these perfectly dome shaped bakery style muffins? Three things :
1. Bake initially at a higher temperature. This high temperature causes the air bubbles in the batter to expand which lifts the batter and you get these nice muffin domes.
2. Fill the muffin pan/liners all the way to the top with the batter, only then it will be able to form a high rising dome.
3. The muffins should be baked in the upper third of the oven where heat is more constant.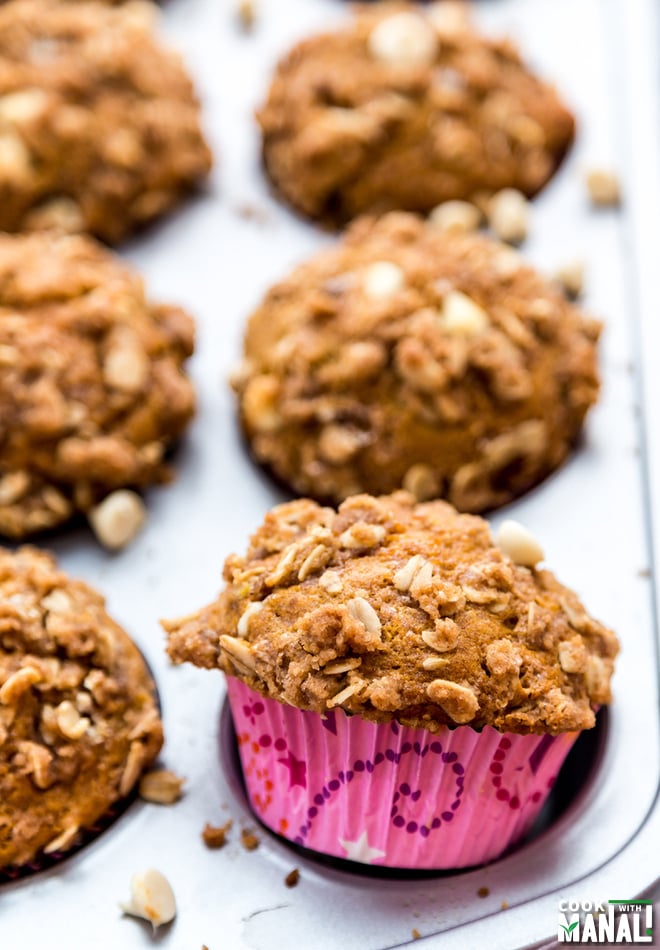 For the streusel topping I used both oats and flour. I really like baking with oats, I think it adds such a nice texture to baked good and these muffins were no different. The brown sugar and oats streusel was perfect with these moist pumpkin muffins.
I had these pumpkin streusel muffins for breakfast today and I think they tasted even better the next day. These are perfect muffins for fall morning with a cup of coffee. Get you pumpkin fix and make these muffins!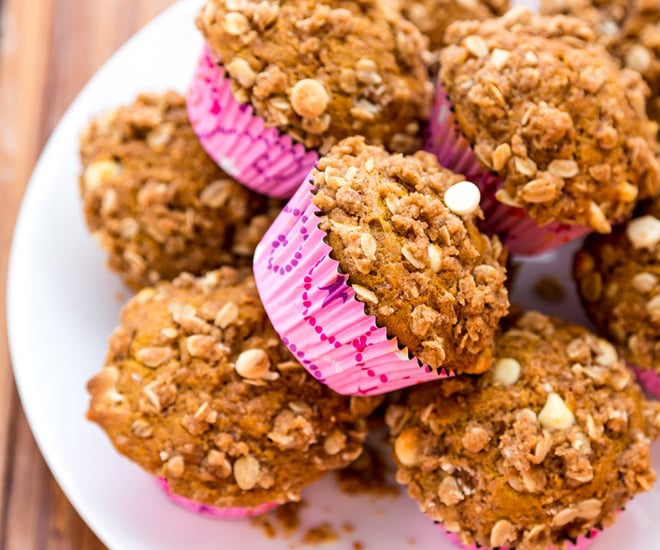 * For a less sweeter option, cut down on the sugar in the streusel topping. Use 1/4 cup in stead of 1/3 cup sugar.
* The muffins stay good at room temperature for a few days. It's best to freeze the muffins which you are not going to eat rightaway.
* I was able to get 12 big muffins out of this batter because I filled them all the way to the top to get these muffin domes. If you don't care about the domes, you can fill less batter in each liner and get more muffins!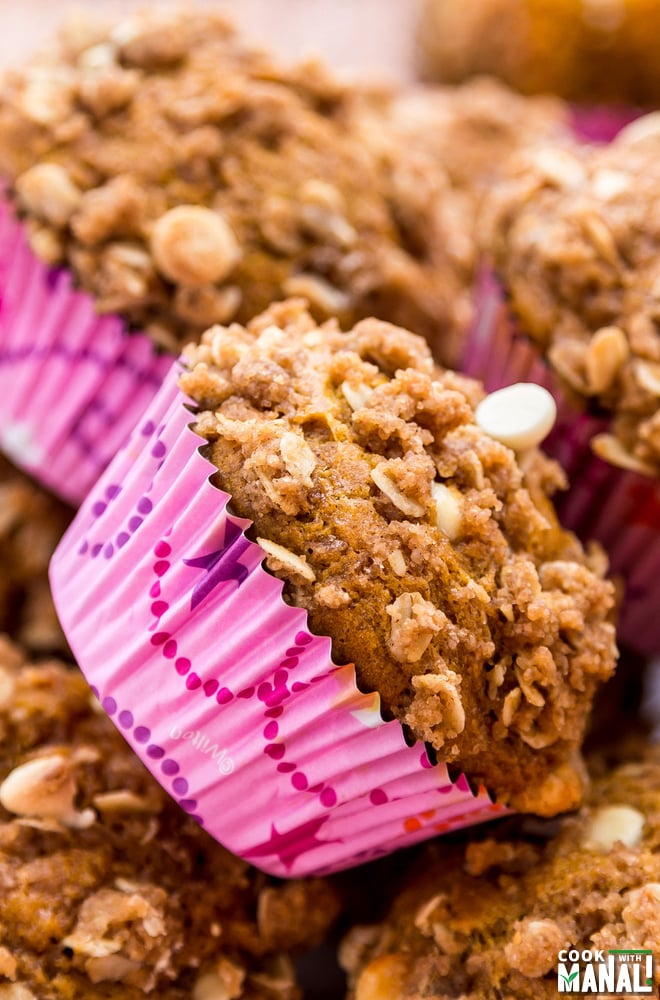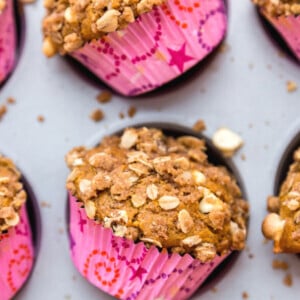 Moist and tender Pumpkin Muffins topped with a brown sugar and oats streusel.
Ingredients
Streusel Topping
3

tablespoon

butter

unsalted, melted

⅓

cup

light brown sugar

½

teaspoon

cinnamon powder

¼

cup

all purpose flour

¼

cup

rolled oats
Muffin
1¾

cup

all purpose flour

1.25

teaspoon

pumpkin pie spice

1

teaspoon

cinnamon powder

1

teaspoon

baking soda

¾

teaspoon

baking powder

½

teaspoon

salt

½

cup

granulated sugar

1

teaspoon

vanilla

2

eggs

¼

cup

canola oil

¼

cup

greek yogurt

white chocolate chips

to sprinkle on top [optional]
Instructions
Make the streusel
In a bowl mix together all purpose flour, oats, light brown sugar and cinnamon powder.

Melt butter in the microwave till completely melted.

Add the melted butter to the dry ingredients and mix till the mixture resembles bread crumbs. Set aside.
Muffin
Line a muffin tray with liners or spray with a non-stick spray. Set aside.

Preheat oven to 425 F degrees.

In a bowl whisk together all purpose flour, cinnamon powder, pumpkin pie spice, salt, baking powder and baking soda. Set aside.

In the steel bowl of your stand mixer fitted with paddle attachment or using your hand mixer, beat together eggs and granulated sugar till well combined, around 2 minutes.

Add in the vanilla, greek yogurt and oil and mix till everything is well combined.

Add in the pumpkin puree and mix.

Start adding the dry ingredients into the wet. Add the dry ingredients in 3 parts, mixing after each addition.

Mix in till the batter is just combined. Do not overmix.

Pour batter into the liners/muffin pan and fill it all the way to the top.

Sprinkle each muffin with around 1 tablespoon streusel. Also sprinkle some white chocolate chips [if using].

Bake at 425 F degrees for 5 minutes, lower the temperature to 350 F degrees and bake for another 15-17 minutes or till a toothpick inserted in the center comes out clean. Mine were done in 15 minutes.

Let the muffins cool in the pan for 5 minutes before transferring them onto a wire rack to cool completely.
Nutrition information is automatically calculated, so should only be used as an approximation.
Your feedback is valuable!
Please share your comments, ratings, and any suggestions or adaptations below to help us improve and make our recipes more successful.
Pumpkin Streusel Muffins