11+ Flavorful Vegan Tofu Recipes
11+ flavorful Vegan Tofu Recipes for your lunches, dinner and meal-prep!
These dishes are not only packed with flavors but are also easy to make.
I remember the first time I tasted tofu some 8 years back.
I didn't like it at all. It was a new taste for my taste buds and one that I didn't warm up to for years.
It has taken me years to like tofu and it has also made me realize that tofu can be wonderful if seasoned well.
Unlike a lot of other things, tofu doesn't really have a great flavor of it's own.
So, it needs to be seasoned or cooked in along with other things to make it flavorful.
Over the past couple of years, I have cooked with tofu a lot and my favorite ways to eat it includes Indian and Asian inspired recipes.
Tofu works really well in Indian recipes. That's given because we cook so much with paneer and tofu is an excellent replacement for it.
So all the curries that we can make with paneer can all easily be made with tofu.
Tofu pairs well with veggies in Asian inspired stir-fries! It's kind of my favorite way to eat it.
Just pair with rice or quinoa and you have got yourself a hearty meal.
And the best part is that these Asian style tofu recipes don't take much time to put together at all!
I love using extra-firm tofu in my recipes. Maybe because I usually cook tofu in Indian and Asian recipes and extra-firm is what works best there. Or maybe it's the texture issue, I prefer the extra-firm variety so much more.
Today I am sharing with you guys a round-up of my favorite Vegan Tofu Recipes! These make great lunches or dinner and are good for meal-prep. They are all also easy to make.
Hope you will enjoy these!
Super easy and flavorful Thai Basil Tofu Stir Fry gets done in less than 20 minutes (including the prep time)! Serve over jasmine rice for a perfect meal.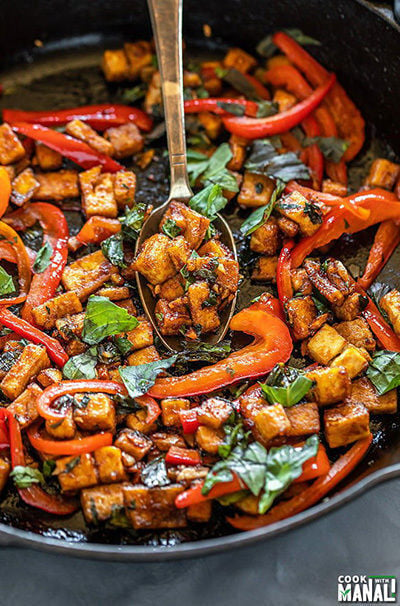 2- Instant Pot Thai Peanut Tofu Pineapple Curry
A flavorful Thai Curry where tofu is paired with sweet pineapples and creamy peanut butter. The best part? It's made in the Instant Pot!
Pan fried tofu is tossed in a sweet and spicy sauce along with pepper, dried chilies and peanuts. This is one of my favorite ways to enjoy tofu.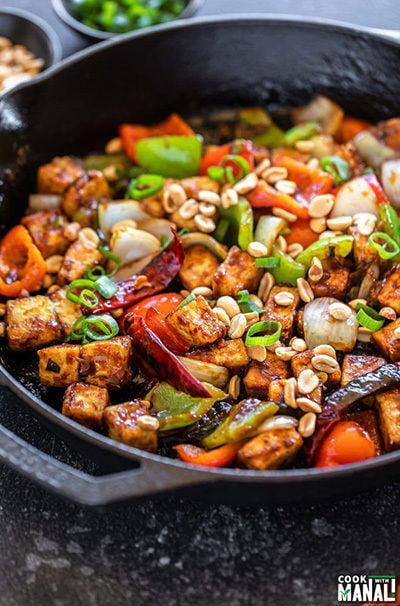 This is the vegan version of the famous Indian dish Matar Paneer where tofu and green peas are tossed in a spicy tomato based sauce.
5- Vegan Soba Noodles Stir Fry with Curried Tofu
Easy meal for weeknight! The noodles are packed with nutritious veggies and tofu and tossed in a spicy ginger sauce! This dish gets done in 30 minutes and is also gluten-free.
6- Instant Pot Tofu Tikka Masala
Spicy marinated cubes of tofu are tossed in a creamy curry. Serve this tikka masala over basmati rice for a comforting and hearty meal.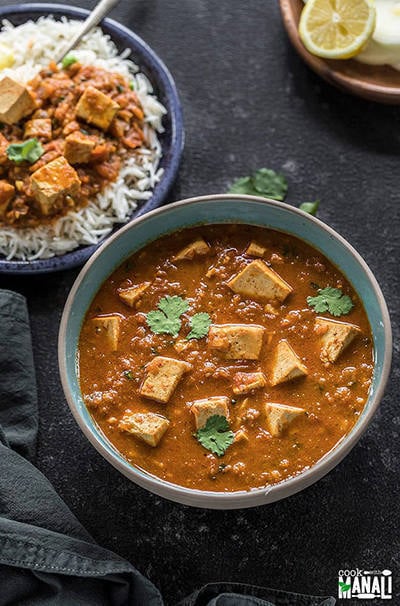 7- Asian Tofu Broccoli Stir-Fry
Tofu and broccoli are tossed in an Asian inspired sauce and I also like to add some cashews for the crunch! Garnished with green onions, sesame seeds, this is best enjoyed with rice.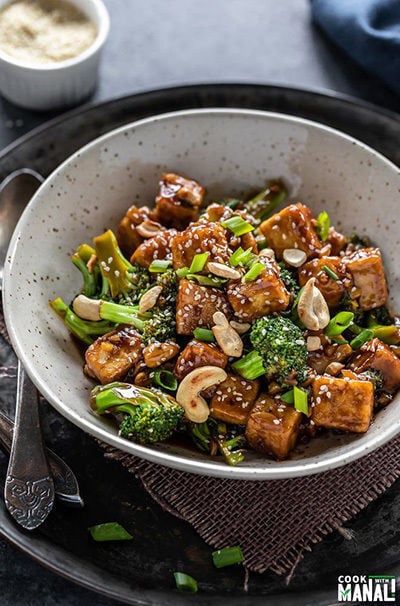 8- Palak Tofu
Pan-fried tofu cooked in a spicy spinach curry. This is the vegan version of the famous Indian dish Palak Paneer!
Crispy Tofu tossed in a super flavorful sweet sauce with bell peppers and toasted cashews. This dish is not 100% vegan since it uses honey but you can easily replace it agave or maple syrup.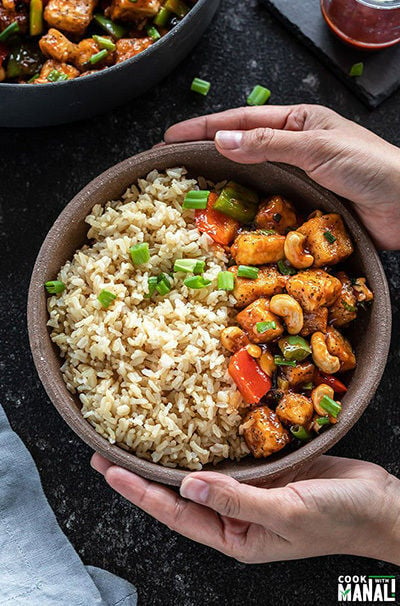 10- Tofu Scramble
This Tofu Scramble is a great way to start your day. This filling and hearty vegan meal is so nutritious and packed with flavors!
11- Crispy Tofu Tacos with Avocado Lime Crema
Vegan & Gluten-Free Crispy Tofu Tacos topped with Avocado Lime Crema! If you love easy meals, then you gotta try this one.
12- Instant Pot Vegan Thai Curry Soup
Comforting Thai Curry Soup with tofu and veggies! This easy to make one-pot soup makes a wholesome and filling meal. I make this on repeat during cold days!
Hope these Vegan Tofu Recipes inspire you to get creative with tofu! Let me know which one is your favorite?