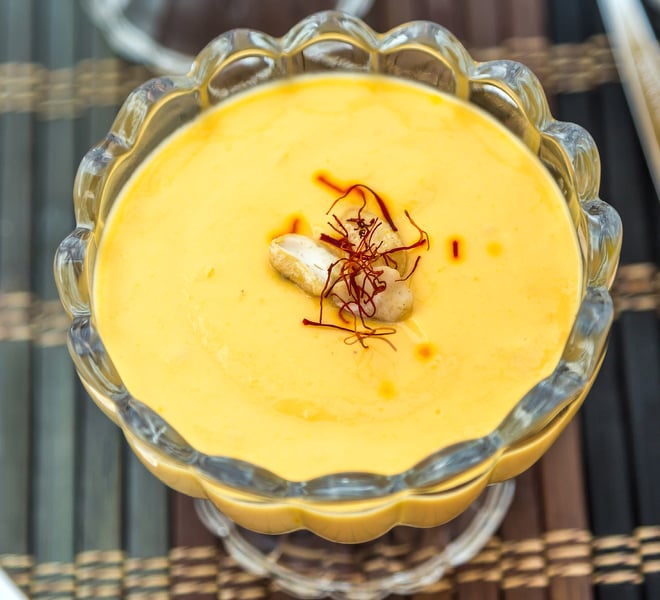 Mango is my husband's favorite fruit, umm I guess if you are from India chances of mango being your favorite fruit is pretty high, like really high! My hubby told me that once they had this discussion in their office about fruits. Everyone was asked to name their favorite fruits and while people had different choices, everyone from India said mangoes! Well I was not surprised at all, mango is probably the only reason why everyone looks forward to the horrible summer in the country.
We do get mangoes in US which taste decent but honestly they are no match to the Indian mangoes. But last year I discovered these mangoes in Whole Foods Market which actually tasted good. Sure they weren't as good as Indian mangoes but they were decent enough for our mango craving. We got the same mangoes this year too and I was left with few which I needed to finish before my India trip and so I made this instant mango shrikhand.
Shrikhand is a yogurt based dessert popular in western parts of India. To make shrikhand, yogurt is strained by tying it in a muslin cloth and putting pressure over it. The yogurt is then mixed with sugar, saffron, cardamom and then chilled before serving.  Traditionally this procedure took 2-3 days but I guess now no one has time to go through such a long process and hence this instant recipe.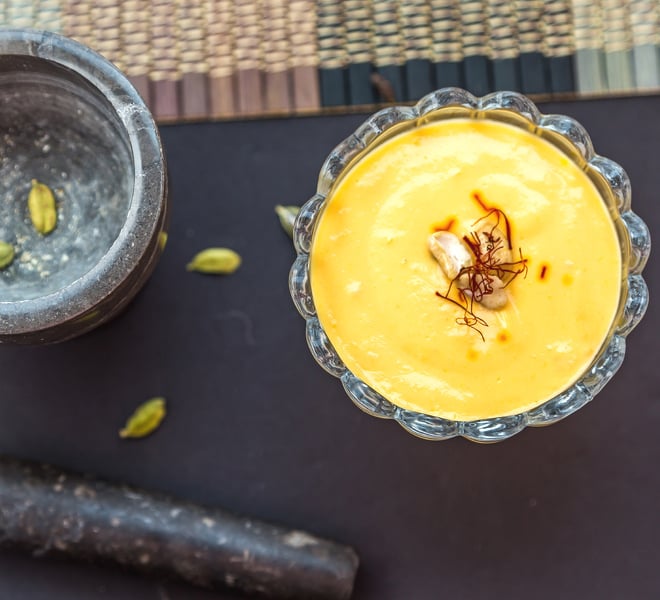 When you add mango pulp to shrikhand it becomes Mango Shrikhand or Aamrakhand. This instant mango shrikhand recipe is made using Greek Yogurt. Because the yogurt needs to be really thick for shrikhand, do not use 0% Greek Yogurt, instead use one with higher fat content like 2% or more. In case you see some water in the yogurt, just drain it by tying the yogurt in a muslin cloth for 5 minutes or so, usually there will be no water in Greek yogurt.
The flavor of saffron, cardamom and mango makes this a mouth watering dessert. Shrikhand tastes best when chilled so you can prepare this in advance and chill overnight in serving bowls. When it's time to serve just take out the bowls from the refrigerator and garnish with some nuts.
* Use fresh mango pulp for best taste. You can use canned mango pulp but it won't taste the same.
* You can make this shrikhand using regular yogurt too, tie the yogurt in a muslin cloth and let it hang for 4-6 hours or till it's completely drained and then follow the rest of the steps as it is.
* Do not use 0% Greek Yogurt for this recipe, 2% or more will work fine.
* Adjust sugar to taste, you might not want to add any sugar if the mangoes are sweet enough.
Instant Mango Shrikhand
Mango Shrikhand - Greek yogurt mango pudding flavored with saffron & cardamom , a popular dessert from western India!
Ingredients
¾

cup

greek yogurt

½

cup

+ 1 tablespoon mango puree

2

tablespoons

sugar or to taste

3-4

green cardamom

pinch

saffron strands

dissolved in water

cashews

for garnishing

pistachios

for garnishing
Instructions
Whisk the greek yogurt in a bowl.

Chop the mangoes and puree them in a blender.

Peel the cardamom and crush the seeds using mortar and pestle. Set aside.

Dissolve the saffron strands in 1 teaspoon of water or milk.

In a bowl mix together greek yogurt, mango puree, sugar and whisk till sugar is dissolved and yogurt and mango puree are well combined.

Add the crushed cardamom seeds, saffron strands and mix.

Pour the mango shrikhand in serving bowls and garnish with chopped pistachios/cashews.

Chill the serving bowls in the refrigerator before serving.
Nutrition
Calories:
138
kcal
Carbohydrates:
26
g
Protein:
8
g
Cholesterol:
3
mg
Sodium:
28
mg
Potassium:
246
mg
Fiber:
1
g
Sugar:
23
g
Vitamin A:
690
IU
Vitamin C:
23.8
mg
Calcium:
101
mg
Iron:
0.5
mg
 Mango Shrikhand