This kulfi is for all the meetha paan lovers!
Betel leaf  is commonly consumed as paan in India and other parts of Southeast Asia. The leaf as such has medicinal properties but all that it lost when it's eaten as paan where they take the leaf and fill it with tobacco, areca nut and lime. Since it has tobacco this paan is definitely not good for your health.  But there's yet another version of it called the 'meetha paan' (sweet paan) which is eaten as a mouth freshener. Here the leaf is filled with gulkand (paste of rose and sugar), fennel seeds, coconut etc and tastes amazing!
The other day I got these paan leaves from the Indian store and that's how I got around making this kulfi. My husband loves meetha paan and so he was totally excited about the idea of making this kulfi. For those who don't know kulfi is Indian ice cream which is made by reducing milk till it gets really thick and then freezing it. The texture of kulfi is not exactly like ice cream since there's no cream here but it's lip smacking good.
Check out the other kulfi recipe on my blog Kesar Pista Kulfi.
The leaves that I got from the store were quite big in size and so I only used 6 in this recipe. But in case you get smaller paan leaves, use more to get the right flavor.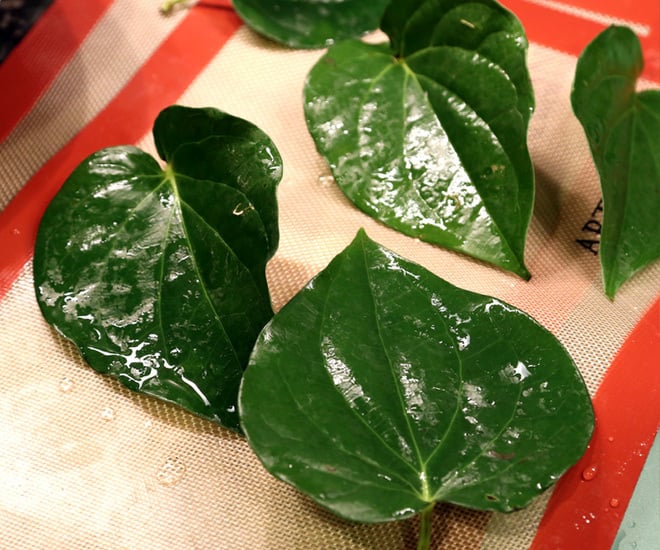 This recipe calls for gulkand, which is essentially a preservative made from rose petals and sugar. You can get it at any Indian grocery store or it can also be made at home by using fresh roses. Gulkand has a lot of sugar in it so be careful about the amount of sugar that you add in the kulfi.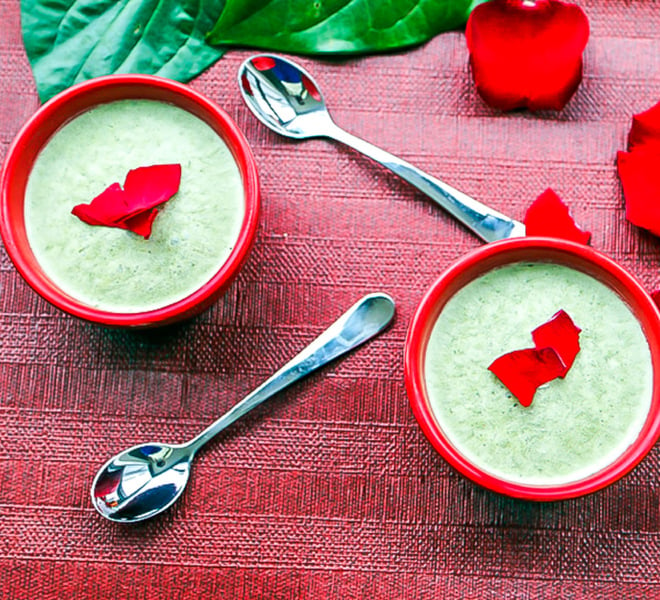 This kulfi is delightfully refreshing and if you love 'meetha paan', do not miss out on trying this one out.
Yield: 5-6 [using regular kulfi moulds]
Ingredients
For the 'kulfi'
Whole Milk: 1 litre
Sugar: 3 tbsp
Heavy cream:  1/2 cup
Corn starch: 2.5 tsp, dissolved in 2 tbsp water
Cardamom powder: 1/2 tsp
For the 'meetha paan' paste
Betel/Paan leaves: 5-6, large, finely chopped
Gulkand paste: 2 tbsp
Fennel seed: 1.5 tsp
Heavy cream: 2 -3 tbsp
Milk: 2-3 tbsp
Steps
Making the kulfi
1. Boil the milk in a heavy bottom pan. Keep stirring it after every 2 minutes so that it doesn't stick to the bottom.
2. After around 30 minutes, the milk would have reduced quite a bit. At this point add the sugar, cardamom powder and cream.
3. Add corn starch and continue to stir the milk till it is reduced by at least 3/4. The milk should be really thick by the end. Pour the thickened milk in a bowl and set aside. Let it cool down to room temperature.

Making the 'meetha paan' paste
4. Blend together all the ingredients listed under 'meetha paan' paste. Add more milk/cream if you feel the mixture is too thick and is not blending well.
5. Sieve the mixture so that you get a smooth paste.
6. Once the milk has cooled down to room temperature, mix together the thickened milk and the 'meetha paan' paste.

7. Pour the mixture in kulfi moulds or small bowls. Freeze overnight or until firm.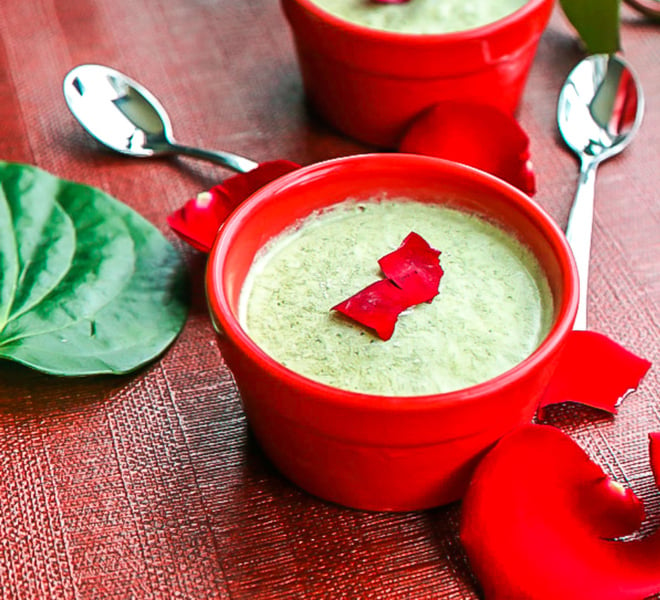 * Do not add too much sugar to the thickened milk. The gulkand also contains sugar so adjust accordingly.
* Taste the paan paste before adding it to the kulfi mixture. If you feel the flavor of paan is not coming through, blend together some more leaves and gulkand to get a nice flavor.
* You can use nuts like pistachios in this kulfi.
* Add a tsp of rose water to enhance the flavor further.
* In case gulkand is not available, use fresh rose petals and blend it together with the paan leaves and fennel seeds.
* When you reduce the milk, make sure the milk is really thick by the end of it. If not, the kulfi will have crystals when you freeze it. This is the trick to make perfect kulfi without any crystals. You don't need to add bread or any other such thing, just make sure the milk is really thick.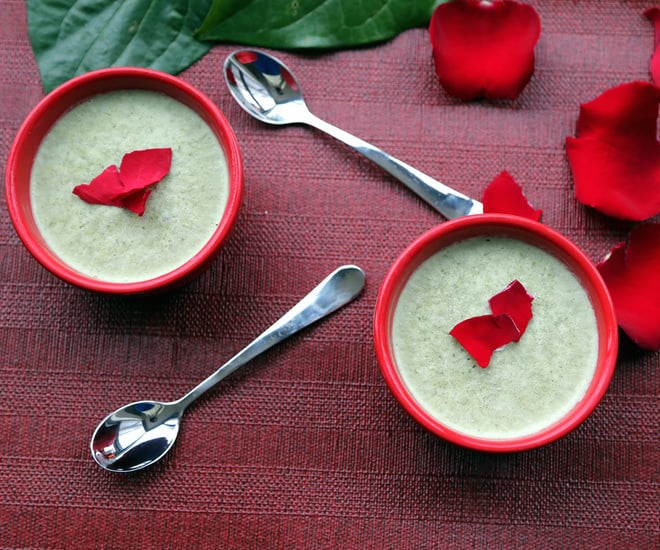 Here's the printable version of this Paan Kulfi recipe.
Paan Kulfi - Meetha Paan Kulfi
A treat for all meetha paan lovers. Kulfi made using milk, sugar and paan leaves.
Ingredients
1

litre + 3 tbsp whole milk

3tbsp for making the paan paste

3

tbsp

sugar

½

cup

+ 2-3 tbsp heavy cream

for making the paan paste

2.5

tsp

corn starch

dissolved in 2 tbsp water

½

tsp

cardamom powder

5-6

paan leaves

finely chopped

2

tbsp

gulkand

1.5

tsp

fennel seed
Instructions
Boil the milk in a heavy bottom pan. Keep stirring it after every 2 minutes so that it doesn't stick to the bottom.

Lower the flame once the milk has boiled and continue to stir.

After around 30 minutes, add the sugar, cardamom powder and cream.

Add corn starch and continue to stir the milk till it is reduced by at least 3/4.

Pour the thickened milk in a bowl and set aside. Let it cool down to room temperature.

Now make the 'meetha paan' paste by blending together chopped paan leaves, fennel seeds, gulkand, milk and cream.

Sieve the mixture to get a smooth paste.

Mix together the thickened milk and the 'meetha paan' paste

Pour the mixture in kulfi moulds and freeze overnight or until firm
Nutrition
Calories:
139
kcal
Carbohydrates:
14
g
Fat:
8
g
Saturated Fat:
5
g
Cholesterol:
32
mg
Sodium:
12
mg
Potassium:
28
mg
Sugar:
11
g
Vitamin A:
350
IU
Vitamin C:
0.7
mg
Calcium:
25
mg
Iron:
0.3
mg