Peanut Chutney
South Indian style Peanut Chutney made with peanuts, chana dal, tamarind! This quick and easy chutney makes the perfect accompaniment to idli and dosa.
Simple peanut chutney made with peanuts, chana dal, cumin seeds, ginger and tamarind.
This quick version gets done in 15 minutes and makes a great accompaniment to idli and dosa!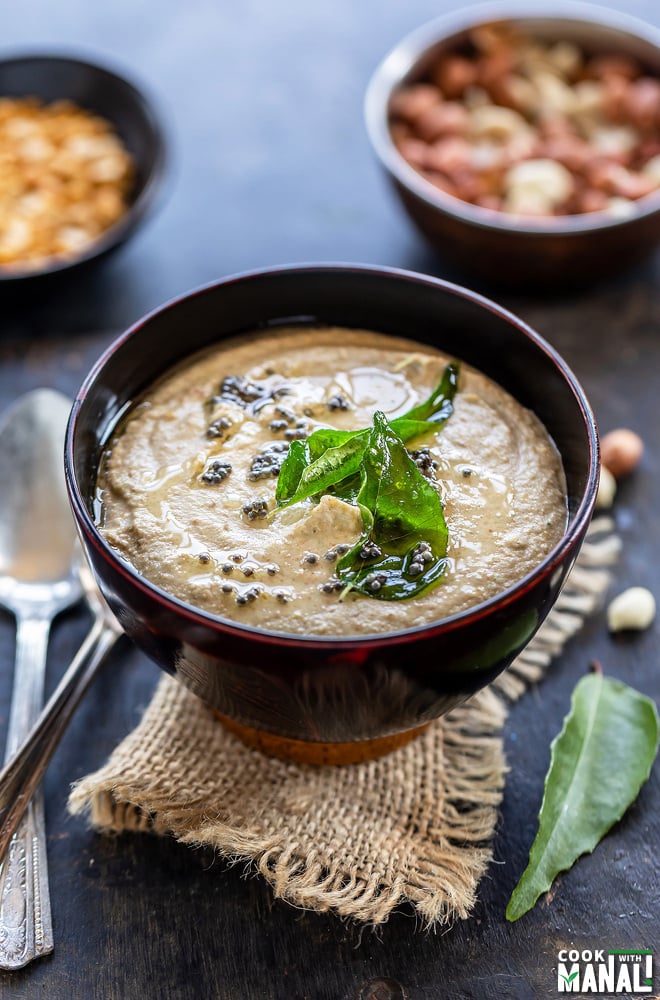 Indian meals are often incomplete without chutney.
Whether it's north Indian food or South Indian, chutney remains constant. However, every chutney is different and the ingredients and method of making them also differs from region to region.
My mom made so many chutneys growing up, like cilantro chutney, raw mango chutney, amla chutney and so many more that I can't even begin to remember now.
One of my absolute favorites was a simple chutney which was made with garlic, green chilies and mustard oil only. It used to taste so good and it's been so long since I had it. I used to love it plain paratha.
I must make that someday and maybe share on the blog. What do you guys think?
Chutneys in different parts of India are so different. Like I don't ever remember my mom making this peanut chutney which is quite popular in South India.
This chutney can be made in different ways, this is  just my version of peanut chutney. It's super simple, comes together quickly and we love it with our idli and dosa.
This Peanut Chutney
✔is easy to make and gets done in 15 minutes or less.
✔is vegan and can be made gluten-free by skipping the hing in the tadka.
✔makes the perfect accompaniment to idlis, uttapam and dosa.
The recipe for this chutney is really simple. Just saute few ingredients together and then blend and done.
It doesn't even need a tadka though I added some because hey it never hurts to add some flavors on top. But you can totally skip it.
Ingredients For The Chutney
You only need a handful of ingredients for this chutney!
Peanuts: of course the main ingredient here since we are making peanut chutney. I use raw, unsalted peanut here.
A lot of people I know roast and then remove the skin of the peanuts for this chutney. I don't remove it, just saute the peanuts in oil and then use them as such in the recipe.
If you want to remove the skin, saute the peanuts first, then let them cool down a bit and then remove the skin by rubbing the roasted peanuts between your palms. The skin comes out easily after roasting.
Chana dal: this adds flavor to the chutney. I don't use a lot of it, just 1 tablespoon, however if you want you can add more.
Cumin seeds: again I use just a bit for flavor.
Curry leaves: these curry leaves impart an aroma and flavor to the chutney and I can't make my peanut chutney without them. I use them in the chutney and also in the tadka.
For those who don't know, curry leaves are also very good for health especially for your hair.
Tamarind: I used store bought tamarind concentrate/paste here. If you want, you can use a small ball of tamarind too, I just have the concentrate in my refrigerator at all times and so it's easier for me to use that.
Tamarind gives the chutney a little sour taste which I love. You don't have to use this ingredient but I personally love it in my peanut chutney.
Ginger and green chili: of course, most chutneys use these 2 ingredients. Ginger adds flavor and chili makes the chutney spicy. I use a single green chili but if you want your chutney to be spicy, you can add 2, 3 or even more chilies.
Mustard seeds: I use them in the tadka but it's optional. You can skip the tadka and also the seeds.
Hing: again used in the tadka but if you want you can add a bit while grinding the chutney too. If you want to make the chutney gluten-free, then skip on it.
Another ingredient which many people use in their peanut chutney is sesame seeds. If you like the flavor of sesame in your peanut chutney, then you can add a bit of it here, around 1 tablespoon maybe. I am not very fond of sesame in the chutney and hence I haven't used it.
Make sure to saute the sesame seeds too before grinding.
You can even add coconut to it, but then I like to keep it simple and focus just on the peanuts here.
It's important to remember here that fry the peanuts and all other ingredients on low heat. You don't want to brown them. So keep the flame on low at all times.
This chutney has a thick consistency, that's how I like it. But if you prefer a thinner chutney, just add more water to the chutney while grinding.
You might have to adjust the salt and other seasonings to taste if you add a lot more water.
Serving Suggestions
As mentioned before, this chutney pairs best with idli and dosa.
We also had it with upma and was really good.
You can even eat serve it with sambar and rice.
Storage
I store this chutney in the refrigerator and it stays good for a week.
It thickens as it sits in the refrigerator so you can always add a little water before serving to thin it out.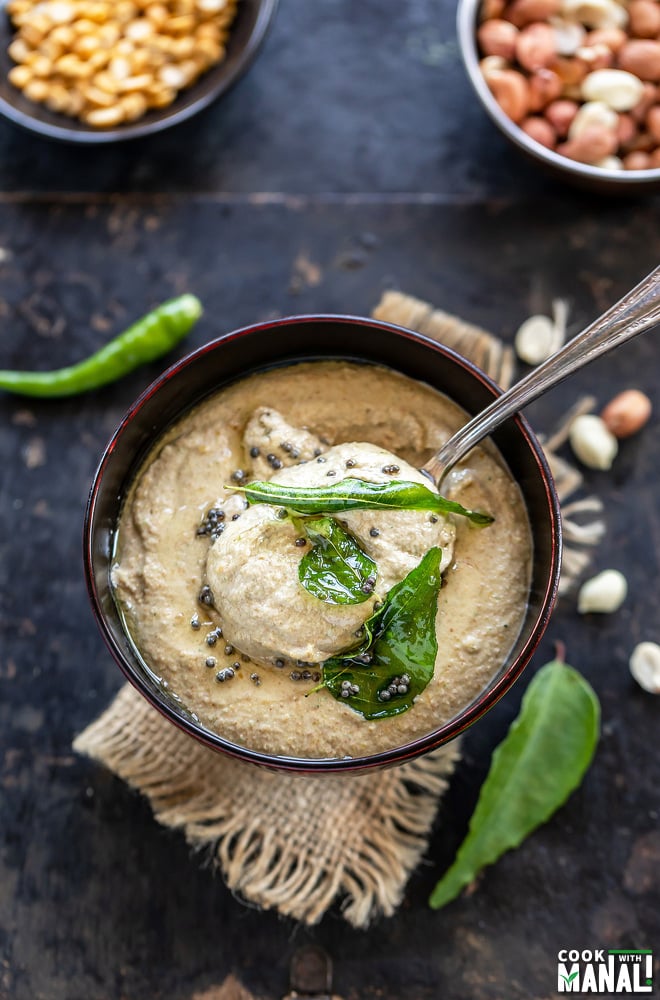 More Chutneys
Here are some more South Indian chutneys that you might enjoy!
If you've tried this Peanut Chutney Recipe then don't forget to rate the recipe! You can also follow me on Facebook and Instagram to see what's latest in my kitchen!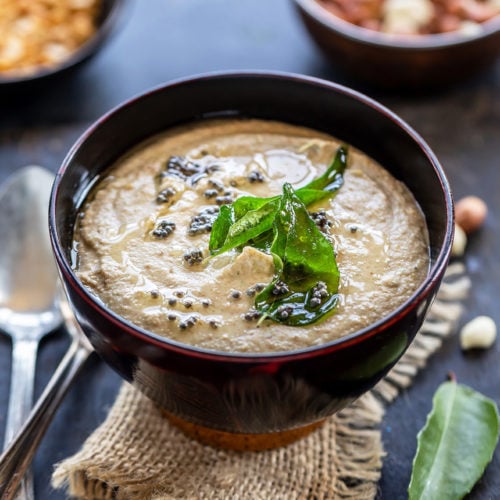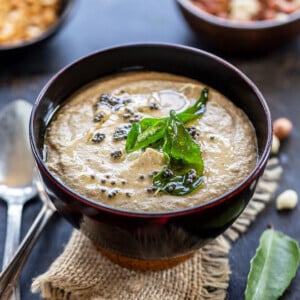 South Indian style Peanut Chutney made with peanuts, chana dal, tamarind! This quick and easy chutney makes the perfect accompaniment to idli and dosa.
Ingredients
1

tablespoon

oil

15 ml

1/2

cup

peanuts

60 grams, raw peanuts

1

tablespoon

chana dal

1/2

teaspoon

cumin seeds

12

curry leaves

1/2

inch

ginger

roughly chopped

1

green chili

or to taste

1/2

teaspoon

salt

or to taste

2

teaspoons

tamarind concentrate

1/2

cup + 2-3 tablespoons

water

as needed to grind the chutney
Tadka
1.5

teaspoons

oil

1/2

1/4

teaspoon

mustard seeds

pinch

hing

asafoetida

4

curry leaves
Instructions
In a pan, heat 1 tablespoon oil and then add raw peanuts to the pan. Roast the peanuts on low heat for 3 to 4 minutes, stirring often. Remember to not brown them.

Add chana dal and cumin seeds and roast 2 more minutes on low heat, stirring often. If you want you can add sesame seeds at this point (I did not add any).

Add curry leaves and roast for 1 minute on low heat. Remove pan from heat. Remember to not brown the ingredients.

Let the chutney mixture cool down a bit and then transfer to a blender along with ginger, green chili, salt, tamarind concentrate and water.

Blend until well combined and you have a smooth chutney. Transfer it to a bowl.

To make tadka, heat 1.5 teaspoons oil in a small pan. Once the oil is hot, add the mustard seeds and let them pop.

Then add hing and curry leaves. Stir and turn off heat.

Pour tadka over chutney and serve peanut chutney with idli or dosa.
Notes
The calorie count is for 1 cup of chutney which will probably serve 8-10 people.
Nutrition
Calories:
700
kcal
,
Carbohydrates:
33
g
,
Protein:
24
g
,
Fat:
57
g
,
Saturated Fat:
7
g
,
Sodium:
1341
mg
,
Potassium:
746
mg
,
Fiber:
13
g
,
Sugar:
10
g
,
Vitamin A:
605
IU
,
Vitamin C:
325
mg
,
Calcium:
154
mg
,
Iron:
5
mg
Nutrition information is automatically calculated, so should only be used as an approximation.
Your feedback is valuable!
Please share your comments, ratings, and any suggestions or adaptations below to help us improve and make our recipes more successful.