10 Eggless Cookies to make this Diwali
10 Homemade Eggless Cookies to make this Diwali more special!
So Diwali is here and it means lots of homemade treats. One of my favorite treats to make and gift to friends and family is cookies. I just cannot get enough! And so I thought I should do a round-up of my 10 favorite Eggless Cookies that you must try this Diwali. Not only are they easy to make but also make wonderful gifts. I mean who doesn't like receiving a box of homemade cookies? 😉 "I don't", said no one ever!
There are some on my favorite cookies in here like Nankhatai – oh I absolutely love it! The wonderful aroma of cardamom, ghee and besan makes nankhatai so special and it always reminds me of Diwali. Another favorite is Cumin Cookies or Jeera Biscuits as we call them in India. They were one of the first cookies that I ever baked for this blog and they continue to be reader's favorite. Another very popular cookie recipe on my blog is Karachi Biscuits. These cookies filled with tutti frutti hold a special place in my heat. I am also adding in here my favorite Brown Butter Snowball Cookies. Even though they might remind you of Christmas, but you should try them this Diwali because they are delicious and you cannot miss them!
I hope you will find something which you like. Wrap these cookies in cute little gift boxes and make Diwali special for your loved ones. Homemade treats are always the best, the personal touch makes them special and I hope you guys find some inspiration from this list! Happy Baking!
Almond Cookies – Badam Biscuits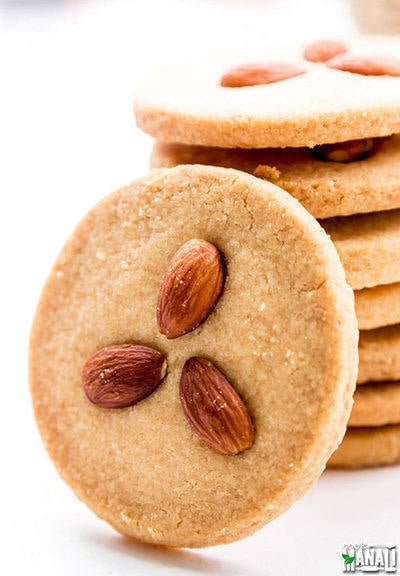 Atta Biscuits – Whole Wheat Cookies
Cumin Cookies – Jeera Biscuits
10-Eggless Cookies Recipes