45+ Vegetarian Thanksgiving Recipes
Nov 17, 2017, Updated Sep 29, 2018
Thanksgiving is here! And if  you are wondering what to serve to your vegetarian guests, then I have got you covered with this round-up of 45+ vegetarian Thanksgiving Recipes. Vegetarian doesn't have to be boring right?
These Vegetarian Thanksgiving Recipes – right from snacks & appetizers to mains to sides & of course the desserts will make sure that your dinner is packed with delicious flavors!
There's so much to choose from, I am still not sure what I will be making. I think the cauliflower tikka and mushroom spinach ricotta crescent ring is definitely making its way to my menu. And oh I cannot forget pumpkin cheesecake & salted caramel macarons for the sweet tooth!
What will you guys be making? I hope you guys find some inspiration from this list and if you happen to make any of these recipes on Thanksgiving, don't forget to tag your pictures with #cookwithmanali on social media.
SNACKS & APPETIZERS
Mushroom Spinach Ricotta Crescent Ring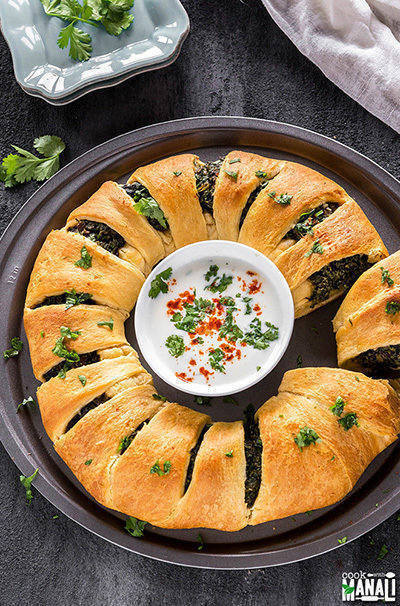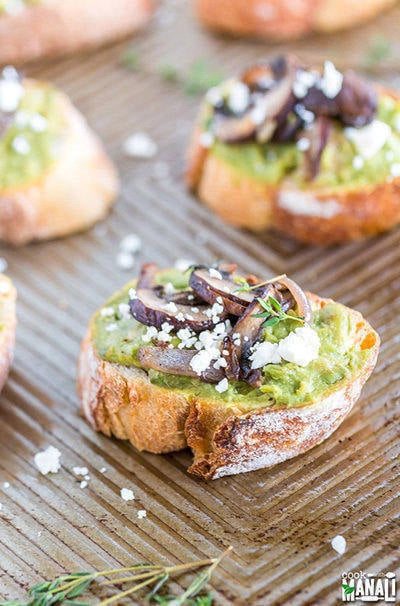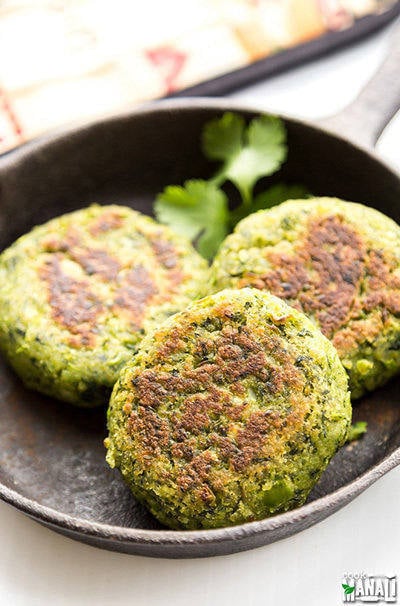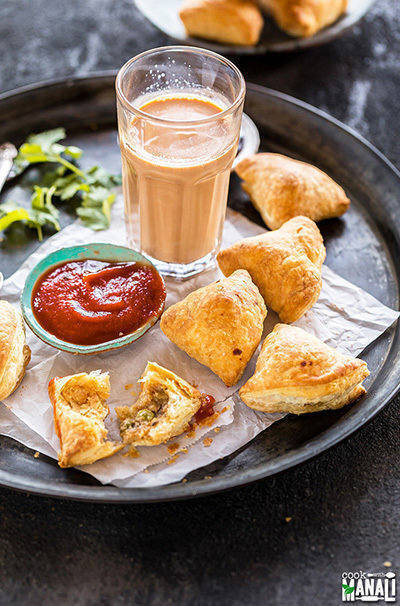 Zucchini Tomato Tart with Balsamic Glaze
Festive Guacamole with Apples & Pomegranate
MAINS 
Roasted Whole Cauliflower Tikka
Roasted Garlic Spinach Tomato Pizza
Spinach Zucchini Lasagna Rolls
One Pot Vegetarian Pizza Pasta Bake
Chipotle Chickpea & Sweet Potato Tacos
Avocado Mango Black Bean Quesadillas
Chickpea & Bean Pesto Pita Wraps
SIDES
Brown Butter Sweet Potatoes with Maple & Pecans
Chipotle-Maple Roasted Carrots
Sweet Potato Bites with Maple Cream Cheese
Vegetarian Stuffed Poblano Peppers
Instant Pot Cranberry Orange Chutney
SOUPS & SALADS
Roasted Sweet Potato Apple & Pecan Salad
Roasted Fennel Orange Olive Salad
Kale Salad with Roasted Beets, Apple & Walnuts
Orzo Pasta Salad with Kale, Pomegranate & Orange Vinaigrette
Instant Pot Butternut Squash Chili
DESSERTS
Eggless Cinnamon Mini Bundt Cakes